UK Prime Minister Rishi Sunak has fired Conservative Party chairman Nadhim Zahawi after an ethics inquiry into the handling of Zahawi's tax affairs found a "serious breach" of the Ministerial Code.
In a letter to Zahawi, Sunak said that, following the investigation, "it is clear that there has been a serious breach of the Ministerial Code."
"As a result, I have informed you of my decision to remove you from your position in His Majesty's Government.
"When I became prime minister last year, I pledged that the government I lead would have integrity, professionalism, and accountability at every level," he added.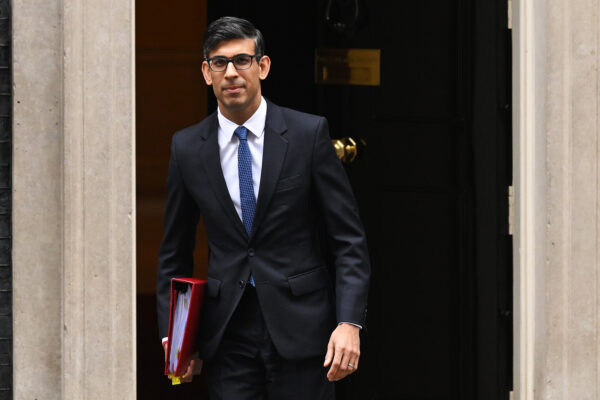 He paid tribute to Zahawi's contribution to the government, including his role as vaccines minister during the COVID-19 pandemic.
"As you leave, you should be extremely proud of your wide-ranging achievements in government over the last five years.
"In particular, your successful oversight of the COVID-19 vaccine procurement and deployment programme which ensured the United Kingdom was at the forefront of the global response to the coronavirus pandemic."
In a letter to the prime minister following his sacking, Zahawi did not explicitly mention the findings of the ethics inquiry into his tax affairs, saying instead that he is concerned "about the conduct from some of the fourth estate in recent weeks," in a reference to the media.
He said: "It has been, after being blessed with my loving family, the privilege of my life to serve in successive governments and make what I believe to have been a tangible difference to the country I love."
He added that Sunak "can be assured" of his "support from the backbenches in the coming years."
'Serious Failure'
The row surrounding Zahawi had centred on a tax bill over the sale of shares in YouGov—the polling firm he founded—worth an estimated £27 million ($33 million) and which were held by Balshore Investments, a company registered offshore in Gibraltar and linked to Zahawi's family.
Following calls from opposition parties for Zahawi to quit after he paid a penalty to HM Revenue and Customs to resolve the dispute, Sunak ordered an investigation on Jan. 23 and asked ethics adviser Sir Laurie Magnus to assess whether Zahawi had breached the ministerial code.
Magnus's four-page report, dated Jan. 29, said certain "omissions" by Zahawi fell short of the standards set out in the ministerial code.
In his report, Magnus wrote: "Given the nature of the investigation by HMRC, which started prior to his appointment as Secretary of State for Education on Sept. 15, 2021, I consider that by failing to declare HMRC's ongoing investigation before July 2022—despite the ministerial declaration of interests form including specific prompts on tax affairs and HMRC investigations and disputes—Mr. Zahawi failed to meet the requirement to declare any interests which might be thought to give rise to a conflict."
Magnus also told Sunak: "I also conclude that, in the appointments process for the governments formed in September 2022 and October 2022, Mr. Zahawi failed to disclose relevant information—in this case the nature of the investigation and its outcome in a penalty—at the time of his appointment, including to Cabinet Office officials who support that process. Without knowledge of that information, the Cabinet Office was not in a position to inform the appointing prime minister."
"Taken together, I consider that these omissions constitute a serious failure to meet the standards set out in the ministerial code."
"I consider that Mr. Zahawi, in holding the high privilege of being a Minister of the Crown, has shown insufficient regard for the General Principles of the Ministerial Code and the requirements in particular, under the seven Principles of Public Life, to be honest, open and an exemplary leader through his own behaviour," he concluded.
'Party First, Country Second'
The main opposition Labour Party said the prime minister should have sacked Zahawi a "long time ago."
Labour's shadow education secretary Bridget Phillipson said: "The reason this keeps happening is we have a government whose only principle is party first, country second. The Tories are governing in their own interests, with a prime minister who is trying to manage his MPs, rather than govern in the national interest.
"It's vital that we now get answers to what Rishi Sunak knew and when did he know it. We need to see all the papers, not just have the prime minister's role in this brushed under the carpet."
But Michael Gove, the government's levelling up secretary, said it was important for all the facts to have been investigated before Sunak made a judgment on Zahawi's position.
"As a general rule I think it is important when allegations are raised that they are investigated promptly, but also we shouldn't rush to judgment before there's been that investigation," he said.
"And again the specific issues of an individual's tax affairs are ones that require, in circumstances like this, a cool forensic analysis, and that is what Sir Laurie provided."
PA Media contributed to this report.