Foreign Hauliers will be allowed to make more trips when they are in the UK this Christmas, the British government said on Thursday.
The measure is a stopgap to address the shortage of heavy goods vehicle (HGV) drivers so Christmas imports can move out of the ports in time.
The temporary change to the so-called 'cabotage' rule means EU lorry drivers delivering goods between the UK and the EU can stay in the UK for 14 days each trip, and pick up and drop off goods within the UK as many times as they want.
Currently, hauliers from the EU can only make up to two cabotage trips within seven days.
The proposal is subject to a one-week consultation, which the government launched on Thursday. If agreed, the measure will come into effect towards the end of this year for up to 6 months.
The government said it expects the measure will be "particularly beneficial to food supply chains and goods that come via ports."
Announcing the rule change, Transport Secretary Grant Shapps said, "The long-term answer to the supply chain issues we're currently experiencing must be developing a high-skill, high-wage economy here in the UK."
He added that recent new rules on the testing process of new drivers have helped increase applications for HGV driving licences by up to three times.
However, Rod McKenzie, managing director of policy and public affairs of the Road Haulage Association, said to British operators and drivers, the new rule looks "exactly" like the "uncontrolled immigration" that the government said it didn't want.
"I spoke to some of our members last night and they were appalled," McKenzie told BBC Radio 4's" Today" programme. "'Ridiculous, pathetic, gobsmacked' were some of their more broadcastable comments."
"The government has been talking about a high-wage, high-skill economy and not pulling the lever marked 'uncontrolled immigration,' and to them, this is exactly what it looks like," he said.
McKenzie said the relaxation of the rules on low-cost foreign drivers will undercut UK hauliers.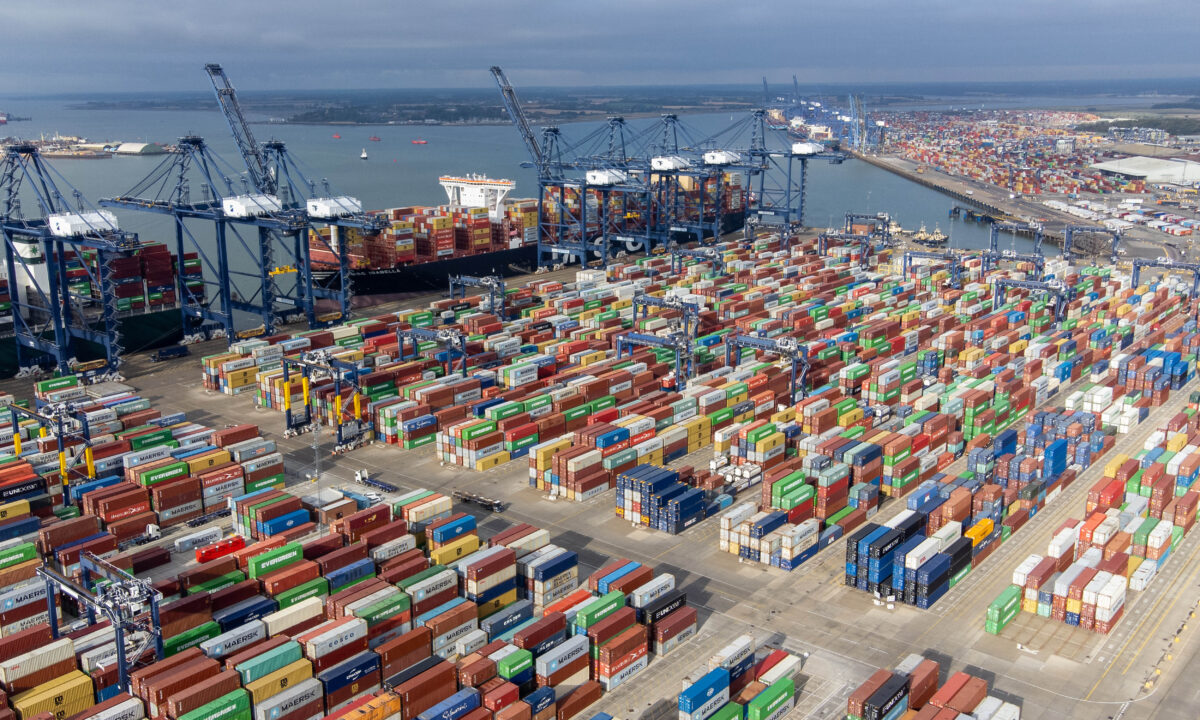 Retailers have been urging people to buy their Christmas gifts early after a shipping company decided to divert their freight from the port of Felixstowe due to backlogs at the port, while logistic bosses said people didn't need to worry about Christmas over short-term fluctuations as the global supply chain is "pretty robust."
"We've got to be careful not to sort of report ourselves into a crisis when it comes to things like our ports," Shapps said on Friday. He said he saw stories from Thursday saying Felixstowe was going to be "terrible for Christmas," while the port management told the transport secretary that Felixstowe doesn't "feature in the world's busiest in terms of congestion ports at all."
Shapps told ITV's "Good Morning Britain" programme that he "cannot guarantee that every line of every product will be available this Christmas," but people will be able to "be together," "buy things," and "there will be food on the table."
Tim Morris, head of the Major Ports Group, which represents operators, doesn't have an optimistic outlook of the situation.
"This week has seen improvements in what we call stack levels, so the amount of containers, for example, sat on the ground. But let's not fool ourselves," Morris told Sky News.
"It has been an extraordinarily busy 12 months now. And what we've seen over the last week, fortnight, have been some of the UK supply chain congestion issues sort of matching up and catching ports … between surging global demand and shipping and very congested inland here in the UK," he said.
Last month, panicked motorists dashed to petrol stations after it was leaked to the media that BP was expecting a few "really, really difficult" weeks and had to prioritise deliveries to key locations due to HGV driver shortages, exacerbating the crisis.