Hong Kong citizens entitled to hold a Hong Kong British National (Overseas) passport will be able to settle in the UK as long as they can support themselves, and they can bring dependents, including possibly children over 18 years old, the Home Office said Wednesday.
The 22-page policy statement (pdf) set out the eligibility criteria for applicants, other conditions they need to meet, their entitlements, and the application process.
In a written statement to the UK Parliament, Home Secretary Priti Patel gave highlights of the policy, which she described as "very generous."
"There will be no skills tests or minimum income requirements, economic needs tests, or caps on numbers," she wrote.
"They do not need to have a job before coming to the UK—they can look for work once here. They may bring their immediate dependants, including non-BN(O) citizens."
At the same time, applicants will need to support themselves independently while living in the UK, meet strict criminality checks, and stay of good character, and pay visa fees and a naturalization fee if applicable.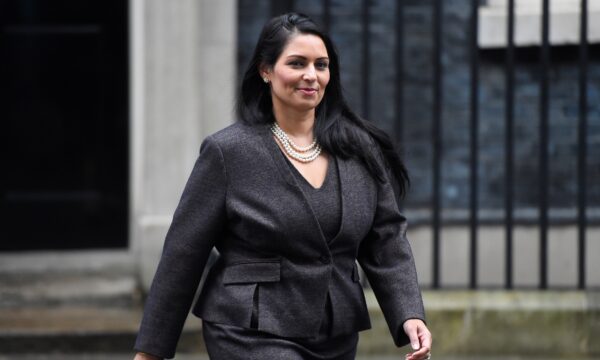 Given the uniquely dire situation in Hong Kong, the British government also made an exception for some adult children of BN(O) citizens, who would not normally be eligible as dependents.
"In compelling and compassionate circumstances, and where applications are made as a family unit, we will use discretion to grant a visa to the children of BN(O) citizens who fall into this category and who are still dependent on the BN(O) citizen," Patel wrote.
BN(O) citizens can expect to apply from January 2021 to start the application process, and they do not have to hold a BN(O) passport to apply for the visa. They will be able to apply for two periods of 30 months' leave or 5 years' leave, with a path to citizenship also available.
"We look forward to welcoming BN(O) citizens to the UK," the home secretary said.
Foreign Secretary Dominic Raab warmly welcomed the statement.
"Today's announcement shows the UK is keeping its word: We will not look the other way on Hong Kong, and we will not duck our historic responsibilities to its people," he said in a statement.
Patel's statement also mentioned the suspension of the extradition treaty between Britain and China.
"The imposition of new National Security Legislation has significantly changed the assumptions underpinning the 1998 Agreement for the Surrender of Fugitive Offenders, our extradition treaty with Hong Kong," the home secretary wrote.
"If China applies that legislation extraterritorially, it will pose a risk not only to Hong Kong residents who travel abroad, but potentially to British and other nationals travelling into Hong Kong.
"The suspension will protect those resident in the UK, including those who may soon be here by virtue of the new immigration route, from unwarranted pursuit through the provisions of the Extradition Treaty."