Travellers who break Britain's COVID-19 quarantine rules will face fines and jail terms of up to 10 years, Health Secretary Matt Hancock said on Tuesday.
Under new rules that will come into force on Feb. 15, anyone travelling to the UK from a country on the UK's travel ban list will be required to quarantine in a government-approved facility for a period of 10 days, at the cost of £1,750 ($2,412) for an individual travelling alone, Hancock announced in Parliament.
In addition, all international arrivals, whether under home quarantine or hotel quarantine, will be required to take two PCR tests on day two and day eight of the quarantine period, he said in a statement.
"We'll be backing this new system with strong enforcement of both home quarantine and hotel quarantine," he said. "People who flout these rules are putting us all at risk."
There will be a £1,000 ($1,378) penalty for any international arrival who fails to take a mandatory test.
Anyone who fails to take the second mandatory test will be fined £2,000 ($2,756) and have their quarantine period automatically extended to 14 days.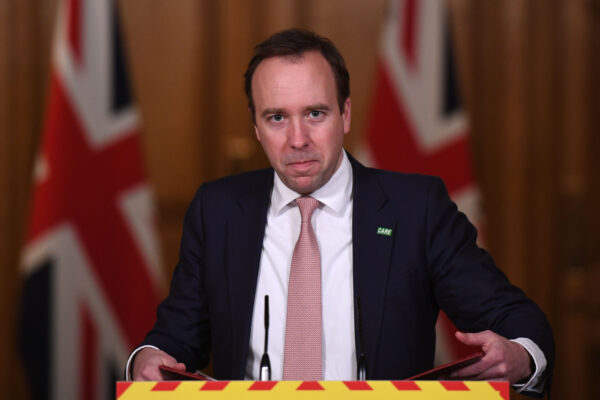 International arrivals who fail to quarantine in a designated hotel will face a £5,000 ($6,891) fine, rising to £10,000 ($13,782).
The government will be "coming down hard" on people who provide false information on the passenger locator form, Hancock said.
"Anyone who lies on a passenger locator form, and tries to conceal that they've been in a country on our red list in the 10 days before arrival here, will face a prison sentence of up to 10 years."
The main opposition Labour Party accused the government of not doing enough to secure the borders against new variants of the CCP (Chinese Communist Party) virus, also known as the novel coronavirus.
Jonathan Ashworth MP, Labour's shadow health secretary, said that "over half of countries where the South African variant has been identified" are not on the government's travel ban list, also known as the "red list."
He urged Hancock to "force the prime minister to fix this hole in the nation's defences and make our borders stronger against further variants."
The government was criticised from some who think the quarantine measures are draconian.
Nigel Farage, leader of Reform UK, said on Twitter: "This is out of control. 10 years in prison for a lie goes too far, we must resist this tyranny."