The UK's biggest supermarkets were overwhelmed with customers flooding their online shopping platforms to book delivery slots, following the government's announcement of a third national lockdown.
Prime Minister Boris Johnson confirmed the national lockdown on Monday at 8 p.m., and within hours shoppers were reporting problems with supermarket websites.
Many shoppers were frustrated to learn that Ocado's online shopping website had a virtual queue of more than 10,000 people.
Sainsbury's temporarily limited access to its online groceries service on Monday night to "manage high demand for slots and updates customers were making to existing orders," a spokesperson confirmed. "We're continuing to monitor the situation and are sorry for any inconvenience this may have caused."
@sainsburys your app and website is down when is it coming back up? Also if you're self isolating how do you ask for your online shopping to be delivered in bags to save any cross contamination and protect the driver?

— Sheena Nagar (@sheenanagar) January 5, 2021
Morrison's online booking for grocery deliveries showed "no more slots available" for some areas at the time of publishing.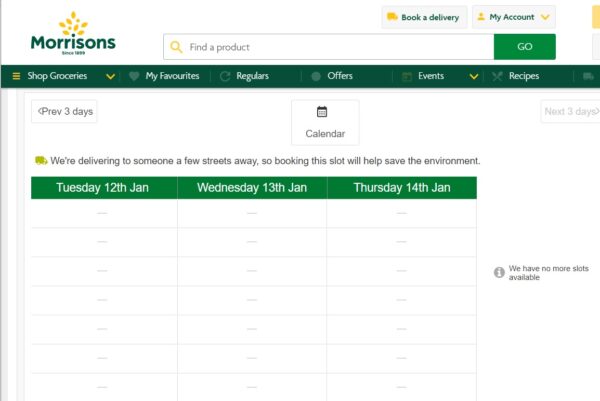 Asda said they saw a spike in visits to their website after the lockdown announcement. A spokesperson told The Epoch Times, "We have increased our weekly delivery slots to over 800,000 so were already far better prepared for sudden increases in demand than we were with the first and second spikes."
Tesco still has delivery slots available at the time of publishing, and shoppers are being advised to plan their deliveries well in advance in order to take advantage of the free slots.
Supermarkets struggled with the huge spike in online traffic back in March 2020 during the first lockdown. This time around, many shoppers still complained on social media that the supermarkets haven't been able to improve their websites and apps to deal with increased demand during lockdowns.
However, many supermarkets have increased online delivery capacity since the first lockdown.
In an email sent to customers just before Christmas, Tesco UK CEO Jason Tarry said, "Since March, we have more than doubled home delivery and Click+Collect slots to 1.5 million a week, with over 760,000 vulnerable customers registered with us who are eligible for priority slots."
Most of the major supermarket chains have also announced new rules for in-store shopping following the lockdown announcement.
Tesco has introduced a one-in, one-out system, while Aldi will continue its traffic light system, used to limit the number of people in stores at any given time.
Prior to the busy Christmas period, Asda released a new virtual queuing app called Qudini for all its 421 main stores, allowing customers to wait in their cars until there are slots available to shop in store.