The UK need to work with other countries—not limited to liberal-minded democracies—to maintain a counterbalance to communist China, MPs of the Defence Committee heard on Tuesday.
The committee held an oral evidence session on Tuesday to gather evidence on China's military ambitions and capabilities. The session will be followed by a wider inquiry later in the year into the Indo-Pacific region, including the role of the UK, committee chair MP Tobias Ellwood said.
PLA Strategic Focus: First and Second Island Chains
Experts told the committee that although the People's Liberation Army (PLA) has expanded its range of operations to be more globally postured, it is still regionally focused when it comes to conventional warfare.
"The capacity to project power is firmly within 400 to 500 nautical miles from the Chinese coast both towards the East China Sea and South China Sea, and that includes the straits of Taiwan," Alessio Patalano, a reader in East Asian warfare at Kings College London, said.
"Past that, I think there is a considerable lack of capacity to sustain high-intensity warfare operations," he added.
Meia Nouwens, a senior fellow for Chinese defence policy and military modernisation at the International Institute for Strategic Studies, agreed with Patalano.
"With the strategic focus for the PLA in the next few years being in its first island chain and second island chain neighbourhood, we are a way away from [global reach] being prioritised at the moment," she said.
Patalano said that we might be seeing an escalation of conflict in the South and East China seas.
"The Chinese in the past two years, notwithstanding the COVID time, have become consistently pressing in that regard, really giving an indication that they are moving towards openly challenging Japanese control of the islands," he said.
"The Japanese made very clear last August that it is a serious problem for them and, for the first time, they provided clear red lines to the Chinese, insofar as how the behaviour of Chinese forces in that space would be considered."
HMS Queen Elizabeth Risks 'Incident'
The UK's Royal Navy aircraft carrier HMS Queen Elizabeth is due to be deployed to the Indo-Pacific region later this year, a plan first revealed in 2017 by then Foreign Secretary Boris Johnson, and recently discussed during a virtual meeting between the UK and Japan's defence and foreign ministers.
Australia, the United States, and the Netherlands are also expected to join the show of strength that Robert Clark, a defence fellow at London think tank the Henry Jackson Society, says marks the UK's return as a global maritime power as it seeks to protect its interests in the face of an expansionist China.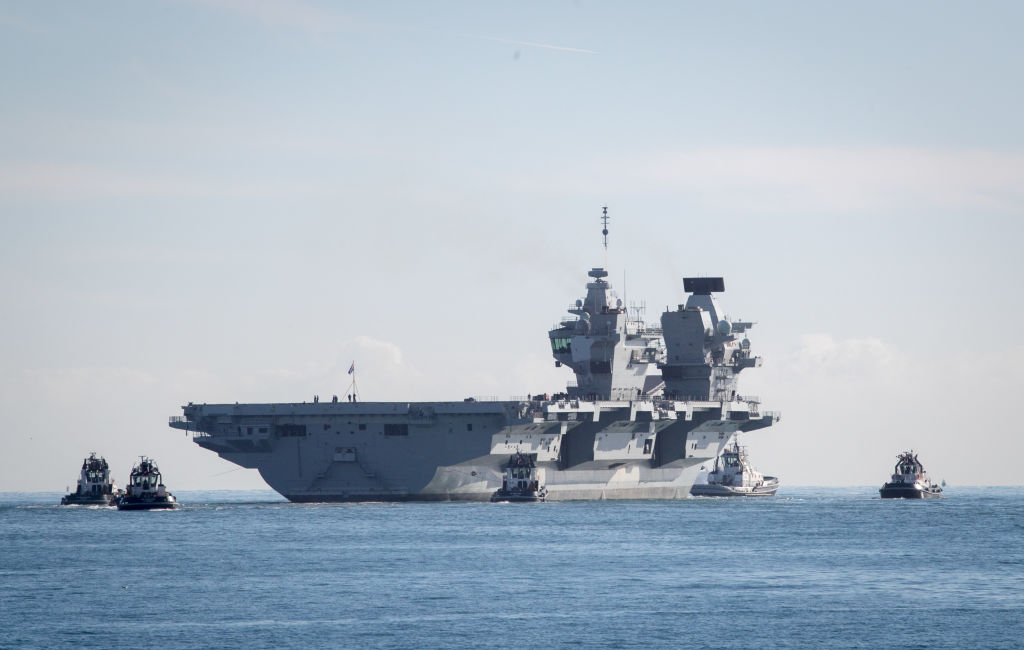 Charles Parton, a senior associate fellow at the Royal United Services Institute (RUSI) and witness at Tuesday's Defence Committee hearing, said the risk of an incident is "more likely."
"We are just seeing an increasing aggressive stance, increasing nationalism, propaganda about it, that I think makes the risk of an incident—a collision between ships, or like 2001 where two aircraft collided—more likely and, because of that nationalism, a little bit more difficult, perhaps, to de-escalate as China feels more confident and able to throw its weight around," he said.
Work With Allies
When asked if the UK should strengthen its bond with Commonwealth countries across Africa to prevent them being ensnared in China's influence, Parton told the committee that the UK needs to get its own "house in order" to be a good role model, and work with other countries.
"This is a question of liberal-minded democracies getting together. It is a very serious values war, not a Cold War—it is very different from Russia—but it is here to stay, and we need to recognise that and work far more closely together," Parton said.
Nouwens, on the other hand, said she "wouldn't just limit it to liberal democracies."
"I think this, again, isn't just a question about liberal democracies but about expanding our partnerships with other countries that might be looking for alternatives and extending their own relationships with us," she said.
"Also, … this is a lot about looking internally and seeing where our weaknesses and our strengths are, and being proactive rather than reactive all the time."
Nouwens told the committee that communist China "does not recognise alliances as something that it does," but only has strategic partnerships that are important to its own interests. China's relationship with Russia, for example, Parton said, is "very much a marriage of convenience, not one of love."
Therefore, "one of the most important opportunities to play to a strength that China does not have," Patalano said, "is working with partners and allies in developing new ways to create military integration between capabilities and interchangeability."
Caden Pearson and Alexander Zhang contributed to this report.