The UK will deploy a team of war crimes experts to support Ukraine with investigations into allegations of Russian atrocities, Foreign Secretary Liz Truss has announced.
The team of specialists will assist the Ukrainian government as they gather evidence in preparation for prosecutions of alleged war crimes committed by the invading Russian forces.
In view of reports of alleged cases of rape committed by Russian troops, the British team will include experts in conflict-related sexual violence.
The experts will arrive in Poland in early May and meet international partners, NGOs, refugees, and the Ukrainian government to scope out the assistance they can provide.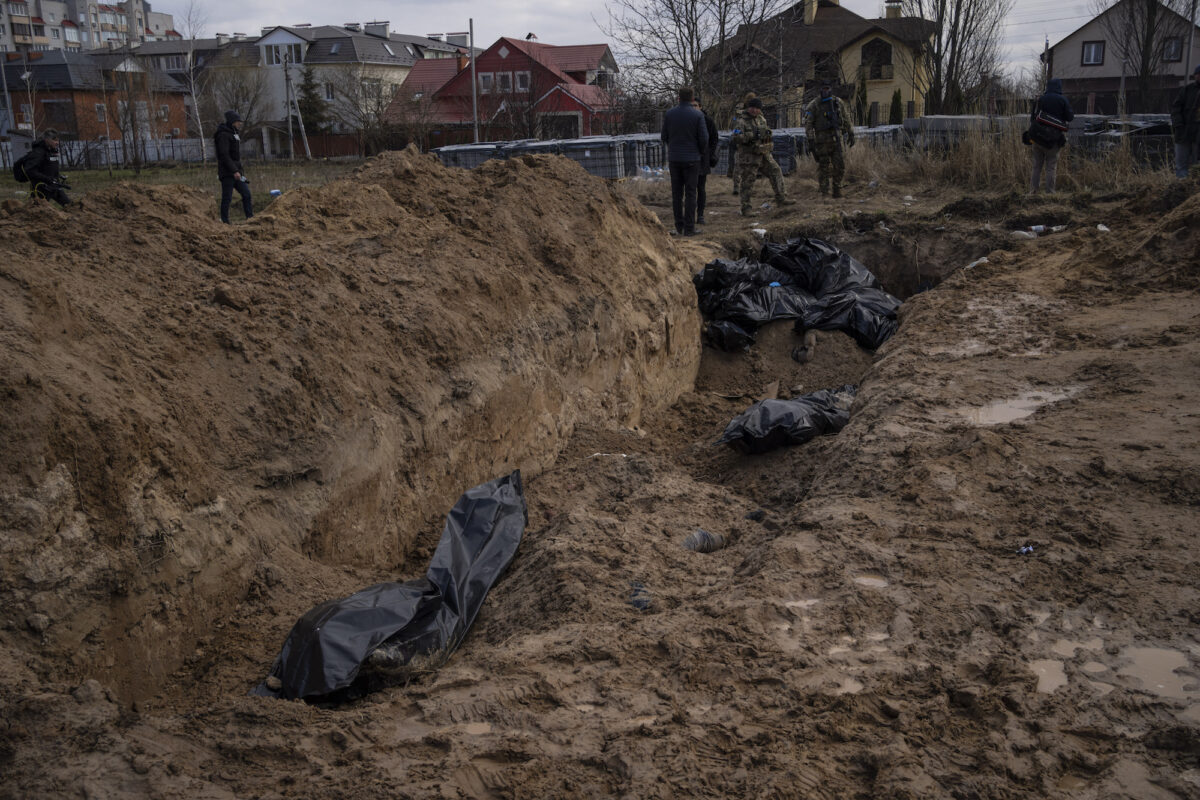 In a statement issued on Friday, Truss said: "Russia has brought barbarity to Ukraine and committed vile atrocities, including against women. British expertise will help uncover the truth and hold Putin's regime to account for its actions. Justice will be done."
Following talks with the International Criminal Court in The Hague on Friday, the foreign secretary said it is vital that those who committed war crimes are held to account.
"This is about collecting a wide range of evidence—witness statements, forensic evidence, video evidence," she told broadcasters.
"We will also use British intelligence to help show the link between what is happening on the front line and the Russian authorities, because it is important that everybody in the chain of command is held to account," she added.
Truss said bringing perpetrators of war crimes to justice would help prevent further atrocities by "demonstrating to people that if they do commit war crimes, if they do use rape as a weapon of war, they will be held to account."
Also on Friday, the UK Foreign Office said it is urgently seeking more information following reports of two British humanitarian workers being detained by Russian forces in the country.
The two Britons have been identified as Paul Urey and Dylan Healey by UK non-profit organization Presidium Network.
A statement from Urey's mother, Linda, released by the organization, said the family members are "extremely worried."
The two British civilians were working as humanitarian aid volunteers when they were captured by the Russian military on April 25 at a checkpoint south of the city of Zaporizhzhia in the southeast of the country, according to the NGO.
Meanwhile, around 8,000 British Army troops are to take part in exercises across Eastern Europe in one of the largest deployments since the Cold War.
Dozens of tanks will be deployed to countries ranging from Finland to North Macedonia this summer under plans that have been enhanced since the Russian invasion of Ukraine.
Defence Secretary Ben Wallace said the "show of solidarity and strength" will see UK service personnel joining with NATO allies and those from the Joint Expeditionary Force alliance, which includes Finland and Sweden, for the exercises.
PA Media contributed to this report.