British Jews suffered the worst level of anti-Semitic hatred in decades following the Gaza conflict in May, a Jewish charity has said.
The Community Security Trust (CST) recorded 1,308 anti-Jewish hate incidents nationwide in the first half of 2021, a 49 percent increase from the 875 incidents recorded in the first six months of 2020.
This is the highest total CST has ever recorded in the first half of any year, since it began recording anti-Semitic incidents in 1984.
CST attributed the surge in anti-Semitic hate incidents to the Gaza conflict in May, during which Israel attacked Hamas targets in retaliation against the Islamic terrorist group's rocket attacks on Israeli civilians.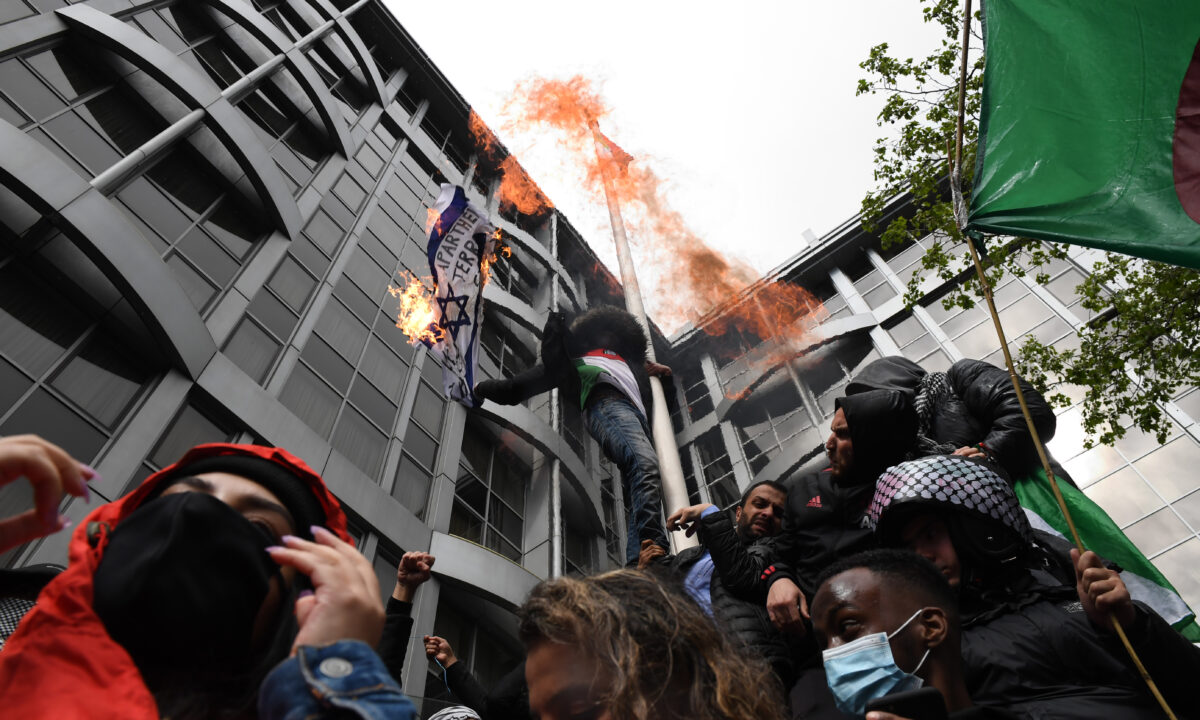 In that month alone, CST recorded a monthly record of 639 anti-Semitic incidents, nearly half of the total for the first half of the year.
Among the recorded hate incidents, 89 were violent incidents, including two classified by CST as "extreme violence," meaning they involved potential grievous bodily harm or a threat to life.
The other incidents included 56 incidents of damage and desecration of Jewish property; 1,073 incidents of abusive behaviour, including verbal abuse, graffiti, abuse via social media, and one-off hate mail; 85 direct threats; and five cases of mass-mailed anti-Semitic leaflets or emails.
Of all the incidents, 748, more than half of the total, were recorded in Greater London.
CST Chief Executive Mark Gardner said the level of hatred suffered by British Jews this year has been worse than anything seen in recent decades.
He said the "abuse and harassment targeting young people in particular was disgraceful."
CST said it supported many schoolchildren and teachers who felt isolated and fearful about returning to their schools, as 130 of the recorded hate incidents involved schools, schoolchildren, and teachers.
University campuses were also affected, with 84 anti-Semitic incidents in which the victims or offenders were students or academics, or involved student unions or other student bodies.
Lord Mann, the UK government's independent adviser on anti-Semitism, said: "The scale and intensity of this rise in antisemitism will shock and abhor people across Britain. Many parents will worry about the dramatic increase in hate in educational settings."
The surge in anti-Semitic incidents is reflected in police statistics. A Freedom of Information request to the Metropolitan Police by the PA news agency revealed 87 incidents of violence against Jews were recorded in May, around four times higher than any other month in the past three years.
The figures showed 39 incidents involved male victims, while 43 targeted women. In one of the incidents, police recorded rocks being thrown at a Jewish home in London.
Dozens of other non-violent incidents were recorded across the capital throughout the month, including one where the word "Hitler" was written on the ceiling of a communal block of flats.
PA contributed to this report.