UK health authorities have identified 77 cases of a new CCP virus variant first identified in India, which has two mutations that may contribute to increased transmissibility and resistance to vaccines.
In its latest update issued on Thursday, Public Health England (PHE) said the new mutant virus, known as B.1.617, has been designated a "Variant Under Investigation" (VUI) and both PHE and its international partners continue to monitor the situation closely.
PHE said 73 cases of the new variant have been found in England, and four in Scotland.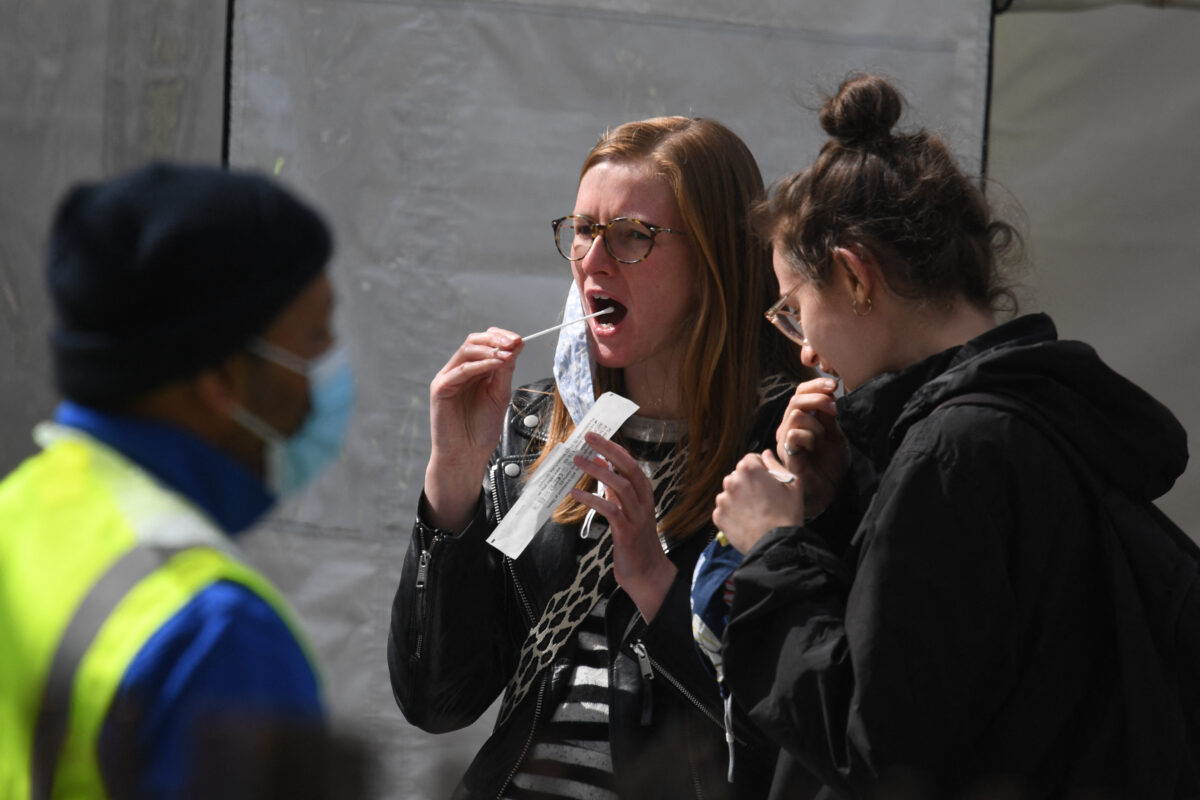 The variant was first seen in two Indian states at the end of 2020, and since then has accounted for an increasing proportion of COVID-19 cases in the country, said Dr. Maria Van Kerkhove, COVID-19 Technical lead at the World Health Organization's (WHO) Health Emergencies Programme.
India is experiencing a major wave of CCP (Chinese Communist Party) virus infections, with 217,353 new cases and 1,185 deaths reported on Friday.
Van Kerkhove said the Indian variant has two mutations—E484Q and L452R—which have been seen in other variants around the world.
The presence of these two mutations is "concerning," she said, because "there's a similarity in these mutations that confer increased transmissibility, for example, and some of these mutations also result in reduced neutralisation, which may have an impact on our countermeasures, including the vaccines."
The UK government currently carrying out surge testing operations in London and in the Midlands in an attempt to curb the spread of the CCP virus variant first identified in South Africa, which is also believed to be more resistant to antibodies than the old variant.
The Department of Health and Social Care (DHSC) said on Friday that additional testing and genomic sequencing are being provided in a targeted area in Smethwick/Cape Hill, Sandwell and Ladywood, Jewellery Quarter, and Soho wards in Birmingham following the identification of a confirmed case of the South African variant.
Everybody aged 16 years and over who resides or works in these areas is "strongly encouraged" to take a PCR test, whether they are showing symptoms or not, the DHSC said.
Surge testing is already under way in several boroughs in South and North London, where dozens of cases have been found.
Latest official data show 600 cases have been found in the UK, with an increase of 56 over the past week.
The government may need to reimpose local COVID-19 restrictions if the mass testing operation fails to put the South African variant under control, Professor John Edmunds, an expert on infectious diseases at the London School of Hygiene and Tropical Medicine, told ITV's Peston Podcast on Wednesday.