Britain is ready to take Ukrainian refugees fleeing Russian aggression in "considerable numbers," Prime Minister Boris Johnson said on Tuesday.
Speaking in Poland, one of the main destinations for people fleeing the war, Johnson said more would be done to allow Ukrainians to come to the UK.
The government is extending the family scheme, which will cover an additional 200,000 eligible people, he said.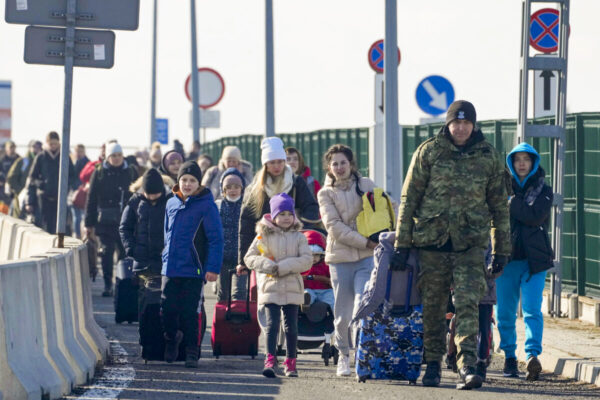 "Additionally, we are going to have a humanitarian scheme and then a scheme by which UK companies and citizens can sponsor individual Ukrainians to come to the UK," he said.
The prime minister said the Polish government and people were doing an "amazing job, an inspirational job" in addressing the humanitarian crisis.
"We in the UK stand ready to help you, we have humanitarian supplies already coming in. I think two planes of medical supplies have already landed, there is more to come," Johnson said.
He told his Polish counterpart Mateusz Morawiecki, "We stand ready, clearly, to take Ukrainian refugees in our own country, working with you, in considerable numbers, as we always have done and always will."
The UK government has come under pressure from both Conservative and opposition lawmakers to do more to take in Ukrainian refugees.
Home Secretary Priti Patel on Monday ruled out a visa waiver for those fleeing the conflict with Russia, citing security concerns. But she said that "further changes" would be announced in the "next few days" to help the people of Ukraine.
In a speech in Warsaw, Johnson said Russian President Vladimir Putin had made a "colossal mistake" by invading Ukraine.
"Putin has lied to his people and to his troops about how this conflict would go, and he has now been caught out in that lie," he said.
"They have not been welcomed to Ukraine as he prophesied, their tanks have not been cheered in the streets or garlanded with flowers. Instead, Ukrainians have mounted an astonishing and tenacious resistance."
Johnson said Putin was "tearing up every principle of civilised behaviour between states."
"He has hurled his war machine on the people of Ukraine, a fellow Slavic country, he has bombarded civilian targets, fired rockets at blocks of flats, he is responsible for hundreds of civilian casualties including growing numbers of children. And also, of course, for the deaths of many Russian and Ukrainian soldiers."
He said evidence of Putin's attacks on civilians could be used in a future trial at the International Criminal Court in The Hague.
PA Media contributed to this report.