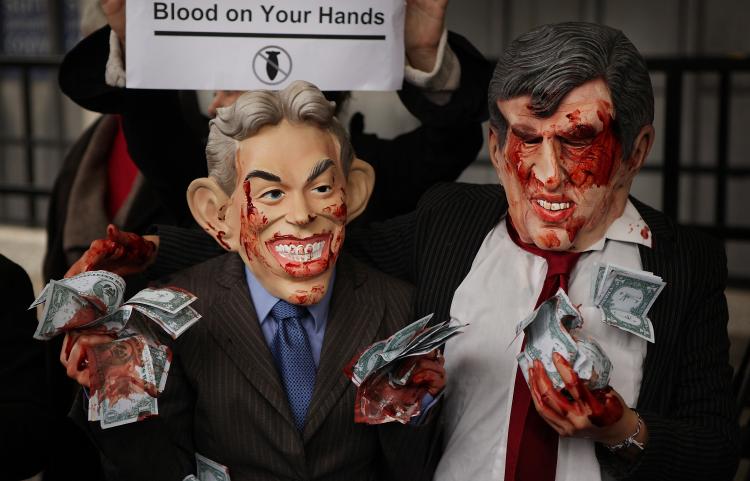 A controversial public inquiry into the Iraq war began this week, amidst criticisms that the five-member panel will not achieve one of its stated aims—to judge the legality of the conflict.
"We are not a court of law," said Chairman Sir John Chilcot, an ex-high-ranking civil servant. He continued, "Nor are we an inquest nor indeed a statutory inquiry. No one is on trial here. We cannot determine guilt or innocence. Only a court of law can do that."
The U.K.'s Guardian newspaper quotes an unnamed senior judge as saying that the panel would not be able to determine the legality of the war as it did not contain any lawyers or judges.
"If the inquiry was going to express a view with any kind of authority on the question of legality, it would need a legal member and quite a senior one," the judge said.
"The panel clearly lacks the expertise to address the question of legality," the paper quotes another unnamed senior legal figure as saying.
British Prime Minister Gordon Brown promised the Chilcot Inquiry extensive access to government documents including secret dossiers. The panel began tackling the mountain of documentation when it was established last June, and in July, started to interview families of killed servicemen and troops who recently served in Iraq. The panel is expected to table its report in late 2010 or early 2011.
This is the latest of several British inquiries into the Iraq war and alleged deceptions over the existence of weapons of mass destruction (WMD). The inquiries have brought mixed conclusions.
In 2003, the House of Commons Select Committee on Foreign Affairs found no improper pressure from government on the making of a dossier given to Parliament, which became the basis for giving the green light to the Iraq invasion. The Intelligence and Security Committee in the same year, presented inconclusive findings on whether WMD were properly assessed.
In July 2004, the Butler Review found the accuracy and intelligence on WMD were "seriously flawed."
Lord Hutton's independent inquiry published in January 2004, found no deliberate intent by the government to deceive the public with the September 2002 dossier.
A Dutch inquiry into the legitimacy of the Iraq war, which has two senior European lawyers on its seven-member panel, is also currently under way. While The Netherlands did not fight in the war, it was supportive of war efforts, according to then U.K. Prime Minister, Tony Blair.
The Dutch Inquiry began this February and is expected to conclude by the beginning of 2010.