Seven stowaways detained in October during a security incident on an oil tanker off the Isle of Wight will now "face no further action," UK police said on Friday.
The men, who are all Nigerian nationals, were detained on Oct. 25 when British military personnel seized control of the Liberia-flagged tanker "Nave Andromeda," after concerns were raised to police regarding the welfare of crew members.
7 men, inc 2 men who had previously been charged, will now face no further action as part of the investigation into the maritime security incident on board the Nave Andromeda off the #IsleOfWight in Oct. Read more: https://t.co/D9Hjn5IAbK pic.twitter.com/lzLQOLfCio

— Hampshire Police (@HantsPolice) January 8, 2021
They were arrested on suspicion of seizing or exercising control of a ship by use of threats or force under the Aviation and Maritime and Security Act 1990. They were later bailed by police, but remained in the custody of the UK Border Force.
The Hampshire Constabulary confirmed on Friday that the seven men will now "face no further action" as part of the investigation into the Oct. 25 maritime security incident.
Two of them—Matthew John Okorie, 25, and Sunday Sylvester, 22—had previously been charged with an offence relating to conduct endangering ships under the Merchant Shipping Act of 1995, but they, too, will face no further action, the police said in a statement.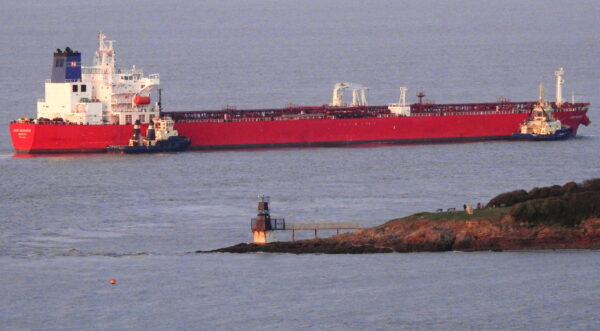 The decision was taken by the Crown Prosecution Service (CPS) after "additional evidence came to light," the statement said, without elaborating.
"The CPS has a duty to keep all cases under continuous review and after additional maritime expert evidence came to light, we concluded there was no longer a realistic prospect of conviction and discontinued the case," said Sophie Stevens, senior district crown prosecutor.
The incident began on the morning of Oct. 25, when the master of "Nave Andromeda" informed the UK authorities that stowaways had been found on board and that he was concerned for the safety of the crew due to the increasingly hostile behaviour of the stowaways.
The seven stowaways had illegally boarded the tanker in Lagos, Nigeria, the tanker's Greek operator, Navios Tanker Management, told The Epoch Times in an email.
Police received the call just after 10 a.m. and were told the stowaways had made verbal threats towards the crew, according to a police spokesman.
Later that might, British military personnel stormed the tanker and all seven stowaways were detained. None of the 22 crew members were hurt during the incident.