UK Prime Minister Rishi Sunak has rejected calls for Conservative Party chairman Nadhim Zahawi to be removed from his post as the ethics investigation into his tax affairs continues.
Sunak ordered the investigation on Jan. 23 following calls from opposition parties for Zahawi to quit after he paid a penalty to HM Revenue and Customs to resolve a multimillion-pound tax dispute.
Speaking during a Cabinet away day at Chequers, the prime minister's country residence, on Thursday, Sunak maintained his position that he will "await the findings" of the investigation into whether the former chancellor broke the ministerial code.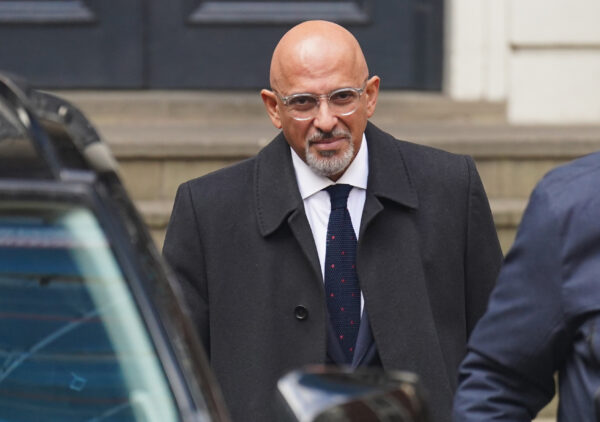 He told broadcasters: "I'm not going to pre-judge the outcome of the investigation. It's important that the independent adviser is able to do his work. That's what he's currently doing, that's what I've asked him to do, and I'll await the findings of that investigation."
Sunak insisted that "no issues were raised" with him when he appointed Zahawi to his current role, stressing that he had ordered the probe "because new information came to light over the past week."
A Downing Street spokesman said that the prime minister still has confidence in the Tory Party chairman, but suggested that the inquiry would take place as quickly as possible and Sunak "expects participation" from Zahawi.
The PA news agency later quoted a source close to Zahawi as saying that he has given the HMRC approval to speak to the investigation into his tax affairs.
'Careless and Not Deliberate'
Zahawi, who attends Sunak's Cabinet, has been under pressure since UK media alleged that he had avoided tax by using Balshore Investments, an offshore company registered in Gibraltar, to hold shares in the polling company he co-founded, YouGov.
The former chancellor admitted on Jan. 21 that he had paid a penalty to HMRC to settle the dispute but insisted that his tax error was "careless and not deliberate" and he is "confident" he has "acted properly throughout."
Sunak said on Jan. 23 that he has asked new ethics adviser Sir Laurie Magnus to assess whether Zahawi had breached the ministerial code.
But the prime minister said Zahawi, whose position the Labour Party says is "untenable," will stay in his post during the inquiry.
Sunak had previously defended Zahawi against the tax allegations, telling Prime Minister's Questions on Jan. 18 that Zahawi "has already addressed this matter in full, and there's nothing more that I can add."
But Downing Street suggested on Jan. 23 that Sunak wasn't aware last week that Zahawi had paid a penalty.
'No Penalties for Innocent Errors'
Calls for Zahawi to step aside have grown louder after HMRC head Jim Harra said that there were "no penalties for innocent errors in your tax affairs."
Appearing before the Public Accounts Committee of the House of Commons on Thursday, Harra explained: "So if you take reasonable care, but nevertheless make a mistake, whilst you will be liable for the tax and for interest if it's paid late, you would not be liable for a penalty.
"But if your error was as a result of carelessness, then legislation says that a penalty could apply in those circumstances."
Senior Tory MP Sir Jake Berry said it is "unsustainable" for Zahawi to remain in power, arguing it was necessary to step aside while under investigation so the public can have faith in the process.
The former minister, who was Zahawi's direct predecessor as Tory Party chairman, told BBC Question Time on Thursday evening: "The government needs to find a mechanism for ministers and MPs who are under investigation in this way to step aside, to clear their name, and then to come back into government if that is appropriate."
"I think from Nadhim, great individual that he is, that would be the right thing to do now. I do think it's unsustainable for a minister to stay in this post while this investigation goes on," he added.
'Hopelessly Weak'
At Prime Minister's Questions in the House of Commons on Wednesday, Sunak was challenged for the second week running by Labour leader Sir Keir Starmer, who claimed he is too "weak" to sack his embattled party chairman.
Starmer said: "We all know why the prime minister was reluctant to ask his party chair questions about family finances and tax avoidance. But his failure to sack him when the whole country can see what's going on shows how hopelessly weak he is—a prime minister overseeing chaos, overwhelmed at every turn."
But Sunak insisted that he was following due process.
"Of course, the politically expedient thing to do would be for me to have said that this matter must be resolved by Wednesday at noon. But I believe in proper due process," he said.
PA Media contributed to this report.