BIRMINGHAM, England—Self-styled "pedophile hunters" in the United Kingdom can snare criminals by posing as children online, according to a recent landmark court ruling.
Pedophile stings have increased in recent years, with about a dozen groups setting up fake online profiles of children, some as young as 11, then confronting groomers who arrange to meet them for sexual acts.
Videos of confrontations are often posted online, with some getting over 200,000 views.
In the case heard by the Newcastle Crown Court, two men argued that the pedophile hunter organization Dark Justice had improperly gathered evidence against them.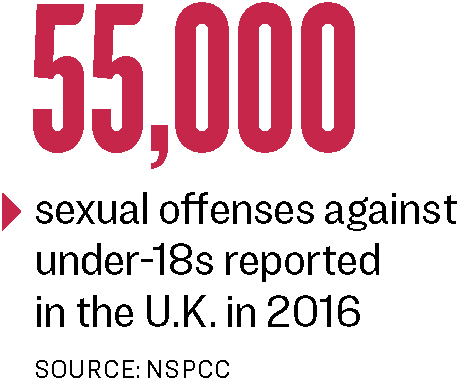 On April 6, the court rejected the argument that Dark Justice should be subject to the same regulations on intelligence gathering as public bodies.
Dark Justice says that if it had lost the case, almost 100 convictions could have been overturned and dozens of ongoing prosecutions abandoned. The two-man outfit from Newcastle say their stings have resulted in 85 arrests and 42 convictions.
Dark Justice is adamant that it is not a vigilante group. As soon as they see the target at the meetup, they call the police.
"When conducting our investigations, we never approach anybody first. Instead, we set up a profile and wait for messages. When we receive a message, we reply immediately and tell them that we are underage," says a statement on their website.
Another high-profile group, The Hunted One, based in South East London, claims it has made 56 successful stings in its first 18 months.
The group's spokesperson, Ben Bleach, welcomed the ruling, saying it will help keep things above board. "The last thing we want is for it to turn into real vigilantism."
Bleach says authorities publicly frown upon their actions, but in private are very encouraging. "Off record, we get a lot of people saying, 'Well done, you've done a really good job.'"
We are on probably eight, maybe nine different apps. On each app, we could be talking to five, 10, maybe 30 people.
, spokesperson, The Hunted One group
He said some people who watch the videos complain about group members' swearing when they're confronting alleged pedophiles and waiting for the police.
"Until you actually read through a whole chat [with a pedophile] from start to finish, you never realize how sick and twisted it all is," Bleach said. "When you are sitting there with them face to face, it is very hard. I'd rather sit there and swear at someone than stand there and [hit] him."
The shock of being confronted by the group is enough to stop the targets from running off before the police arrive. So far, the group has seen a 100 percent conviction rate, Bleach said.
The group wants to grow its reputation to push a broader message about protecting children in an increasingly sexualized society. "Kids are so vulnerable and they are being twisted."
Online groomers gradually manipulate children's sense of right and wrong, he says. The group has found groomers across a number of popular social media and chat apps. "We are on probably eight, maybe nine different apps. On each app, we could be talking to five, 10, maybe 30 people."
A spokesperson for Greater London's Metropolitan Police said that the police do not condone these groups. "This type of action could jeopardize or interfere with ongoing investigations.
"Revealing the identity of a potential suspect could give them the opportunity to destroy evidence before police become involved."