Almost half of over 5,000 British parents said they do not intend to let their children be given a vaccine against the CCP virus when one becomes available, according to a UK poll.
The online poll, carried out by parent and childcare provider networking platform Childcare.co.uk, revealed that 45 percent of poll respondents would not have their children vaccinated against the CCP (Chinese Communist Party) virus, commonly known as novel coronavirus.
The main reason against vaccination was a worry about safety and side-effects, while those in favor of vaccination believed it could save the lives of their children and others.

"Vaccinating a child against a disease or virus is a personal decision all parents must make, and it's a topic that often divides people, especially in recent years," Richard Conway, founder of the 2 million-member strong platform, said in a statement on Monday.
The poll comes at a time when around 20 vaccines against the CCP virus are being developed in the UK, with a number of trials planned to start in the autumn. At the same time, different studies show both minimal and higher risks of virus transmission in schools.
Even Split
Surveyed parents came out "fairly evenly" divided for and against vaccinating their children against the CCP virus.
"The results from the whole poll were very insightful, even surprising, as it's evident that when it comes to vaccinations, parents are still split on their opinions and reasonings why," Conway said.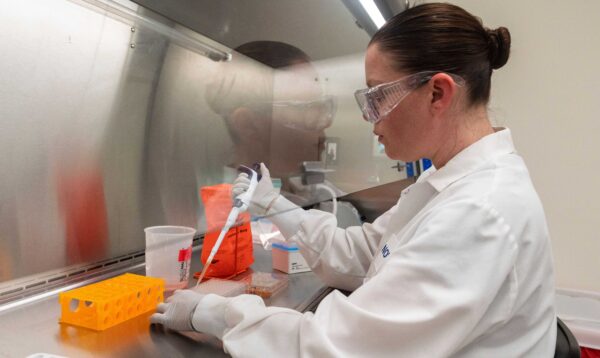 Of those who responded "no" to vaccination, when asked to select which of four statements they agreed with, just over a third chose children being "practically immune" and there being "no need" for the immunization as the reason why they were not intending to have their children vaccinated against the CCP virus.
Eighty-six percent also said they feared "nasty" side-effects, while 19 percent said they believed the virus is "fake and doesn't really exist."
Around 12 percent said they would rather wait for others to be vaccinated, therefore reducing the risk of their own child catching the virus.
Of those in favor of their children being vaccinated, 86 percent chose the reason as saving the lives of their children and others.
About 70 percent said they thought it was the best way to achieve world eradication of the disease, and three-quarters believed it was a parent's duty to have their child vaccinated against "all illnesses."
Back to School
The Childcare.co.uk survey also polled parents on their views regarding their children going back to school in September following the UK government's decision to re-open schools across the country for the impending autumn term.
Around a third of polled parents said they were not planning to send their children back to school or were undecided, of which around two-thirds cited still not being convinced it was safe as the reason.
Over 90 percent of those not intending to send their children back said they would continue homeschooling, with 30 percent saying they would continue homeschooling for the foreseeable future and the rest waiting until they felt it was safe for their children to return to school or until their child had been vaccinated.
In contrast, of the parents who said they were going to send their children back to school, half said they would do so because they thought it was safe for them to return.
Over two-thirds said the risks of a missed education outweighed the risks of going back was their reason. Twenty percent said they needed to return to work.
Over 90 percent of respondents said that neither they nor an immediate family member had tested positive for COVID-19.