British Prime Minister Boris Johnson is seeking to bolster any new NATO defenses against an amassment of troops by Russia on its border with Ukraine with the offer of a major military deployment to Europe.
The prime minister's office said the extra forces on offer would include sending defensive weapons to Estonia, and doubling British troops on the ground, with the potential deployment expected to signify the UK's support for its Nordic and Baltic partners.
"This package would send a clear message to the Kremlin—we will not tolerate their destabilizing activity, and we will always stand with our NATO allies in the face of Russian hostility," Johnson said in a statement late on Jan. 29, days after he told parliament he was looking to "contribute to any new NATO deployments" to protect allies in Europe.
"I have ordered our Armed Forces to prepare to deploy across Europe next week, ensuring we are able to support our NATO allies," he said.
Officials will finalize the details of the offer in Brussels at the start of February, with ministers discussing the military options on Jan. 31.
"If President Putin chooses a path of bloodshed and destruction, it will be a tragedy for Europe. Ukraine must be free to choose its own future," Johnson said.
Johnson is due to visit the region next week and will also speak to Russian leader Vladimir Putin by phone. He will also make a second trip to meet NATO leaders in early February, according to his office.
Meanwhile, Britain's foreign and defence ministers will also visit Moscow for talks with their Russian counterparts in coming days, with the aim of improving relations and de-escalating tensions.
The latest development comes after U.S. President Joe Biden said late on Jan. 28 that he will order U.S. troops to deploy to Eastern Europe "in the near term." A week prior, the White House said that it was "deeply concerning" the UK government reported it had received information "the Russian Government is looking to install a pro-Russian leader in Kyiv as it considers whether to invade and occupy Ukraine."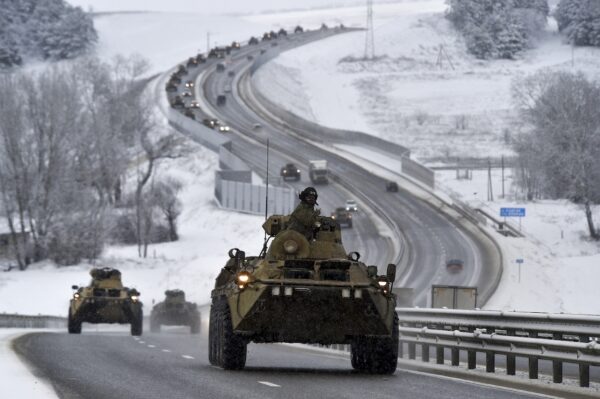 Russia has an estimated 100,000 troops or more, with tanks and other weapons, on its borders with Ukraine's northeast, after having made a series of security demands to NATO in December 2021 to guarantee that Ukraine will never be able to enter the security alliance, and to scale back its deployments in Central and Eastern Europe.
But NATO members have not budged on the Kremlin's demands, and instead have put forth a number of proposals to come to terms with Moscow in other areas such as arms control, confidence-building measures, and limits on military exercises.
In 2014, Russian troops seized and annexed Ukraine's Crimean Peninsula. Shortly after, Russia began supporting separatist fighters in eastern Ukraine that have been fighting Ukrainian government forces; the ongoing war has since killed over 14,000 people.
NATO members have been sending weapons and missile systems to Ukraine to bolster its defenses, and have warned of economic sanctions on Russia if it invades Ukraine. Russia has denied plans to invade.
Russia confirmed on Jan. 29 it would relocate naval exercises off the coast of Ireland as a "gesture of goodwill" after a request from Dublin to do so amid concerns of a Ukraine invasion.
Reuters contributed to this report.