Britain announced on Saturday it will send urgent medical supplies, food, and safer shelters to people affected by the Nagorno-Karabakh conflict.
"Today's UK aid package will help deliver vital food, medicine, and urgent health care to those affected by the Nagorno-Karabakh conflict," Foreign Secretary Dominic Raab said.
Fighting erupted on Sept. 27 between the former Soviet republics of Armenia and Azerbaijan over Nagorno-Karabakh, which is internationally recognised as Azeri territory but is populated and controlled by ethnic Armenians.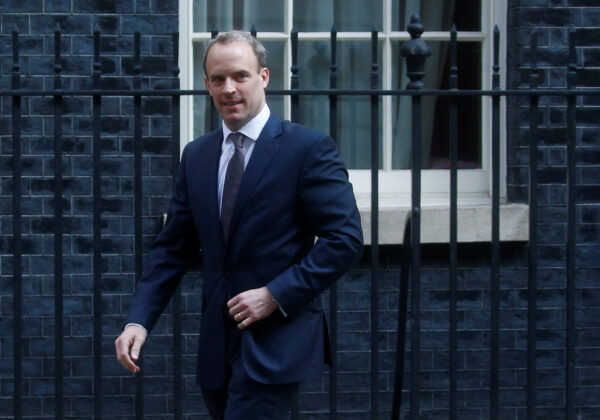 It has become the worst outbreak of violence in the South Caucasus since the two countries went to war over the mountain enclave in the 1990s.
More than 1,000 fighters from the Nagorno-Karabakh army have been killed. Azerbaijan has not disclosed its military casualties, while Russia has estimated as many as 5,000 deaths on both sides.
"We continue to urge both sides to engage with the OSCE Minsk group and seek a peaceful, negotiated, political solution which the people of the region so desperately need," Raab said in a statement.
The Minsk Group, which is co-chaired by Russia, France, and the United States, was set up by the Organisation for Security and Co-operation in Europe (OSCE) in 1992 to resolve the conflict.

Three ceasefires have failed to halt the fighting, the most recent brokered in Washington last Sunday by U.S. Secretary of State Mike Pompeo.
Armenia and Azerbaijan promised on Friday that they "will not deliberately target civilian populations or non-military objects in accordance with international humanitarian law," following talks in Geneva sponsored by the Minsk Group.
But within hours of the latest agreement, the two countries accused each other of bombing residential areas.

Since the conflict began, tens of thousands of people have been forced to flee their homes, with growing numbers of civilian casualties and damage to homes and vital infrastructure.
In response to an appeal by the International Committee of the Red Cross (ICRC), the UK has announced a new £1 million aid package.
Much-needed medical supplies, including dressing kits and bandages, will be provided for civilians caught up in the crisis. People injured in the fighting, including children caught in the crossfire, will receive life-saving treatment at health facilities or from emergency responders supported by the ICRC.
Many of those affected have limited access to food and other essentials, and UK support will provide blankets, food parcels, and basic hygiene items to vulnerable communities near to the fighting.
The new funding is in addition to the UK's core funding to the ICRC. In recent years, the UK has been the second largest donor globally to the ICRC, helping it to respond quickly to situations of armed conflict, according to the government statement.
Reuters and The Associated Press contributed to this report.