The British government has given the armed forces a "crucial" role in the operation against illegal immigration in the English Channel, UK Home Secretary Priti Patel has said.
Answering questions in the House of Commons on Jan. 17, Patel said that she had commissioned the Ministry of Defence (MoD) as a "crucial operational partner to protect our Channel against illegal migration."
She said the British public will support the government's resolve to "do everything possible to protect our borders" and that "a blended approach is absolutely vital."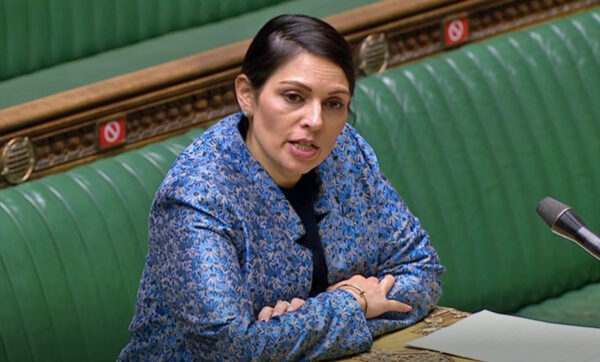 Last year, at least 28,000 illegal immigrants arrived in the UK by crossing the Channel in small boats, more than tripling the number of arrivals of the previous year. The trend has continued this year, with more than 770 people having successfully landed in the UK so far.
The crossings can be dangerous. A Sudanese man in his 20s died while trying to reach the UK last week, less than two months after at least 27 people died when their boat sank off the coast of France in November.
Downing Street has refused to confirm UK media reports that the armed forces will take charge of operations against illegal crossings in the English Channel.
The prime minister's official spokesman said on Jan. 17: "We remain determined to prevent further loss of life in the Channel and break the business model of dangerous criminal people smugglers. It's right that we pursue all options to prevent illegal crossings, to protect life at sea."
He added: "The UK armed forces already work closely with Border Force in these operations, given their expertise and experience in maritime operations. But beyond that I'm not going to get into speculation about further discussions we may or may not have on how we improve our response."
A spokesman for the MoD said: "Unacceptable numbers of people continue to make the dangerous Channel crossings and last November's tragic deaths serve as the strongest reminder of the need to stop them."
"The government is exploring every avenue to prevent further crossings and details of how that can be achieved will be made known in due course," he said.
The main opposition Labour Party said it would support any "sensible" measures to save lives in the Channel but expressed doubts about the sincerity behind the plans.
Shadow home secretary Yvette Cooper said: "This looks like Boris Johnson is using the situation to chase headlines to distract from the total mess he is in as a result of rule-breaking parties in Number 10."
Tobias Ellwood, a Conservative MP who chairs the Defence Committee in the House of Commons, told Sky News that the plans were "rushed" and warned they could be a "massive distraction" for the navy.
PA Media contributed to this report.