The UK government has said it will focus on growing and strengthening the economy in the year head, as it spelt out its legislative agenda in the Queen's Speech.
Prime Minister Boris Johnson used the Queen's Speech, delivered by Prince Charles in the House of Lords on May 10, to set out plans for changes to create a "high-wage, high-skill" economy.
The Queen's Speech is usually read by the monarch herself at the State Opening of Parliament, but Queen Elizabeth, 96, pulled out of the event because of health issues—the first time since 1963 that she was not present at the traditional occasion.

Reading the speech prepared by the government, Prince Charles said the government's priority is to "grow and strengthen the economy and help ease the cost of living for families."
"My government will level up opportunity in all parts of the country and support more people into work," he said.
He said the government will adopt a "responsible approach to the public finances, reducing debt while reforming and cutting taxes."
The Queen's Speech set out 38 bills, including measures to revitalise Britain's high streets, crack down on illicit finance, and make the City, London's financial district, more attractive to global investors after the country left the European Union.

The government "will continue to seize the opportunities of the United Kingdom's departure from the European Union, to support economic growth," the prince told Parliament.
Laws would also be introduced to implement the UK's first free trade agreements since Brexit, he added.
But there is no immediate extra help for households under pressure from rising inflation, which the Bank of England predicts will rise to over 10 percent in the final quarter of the year.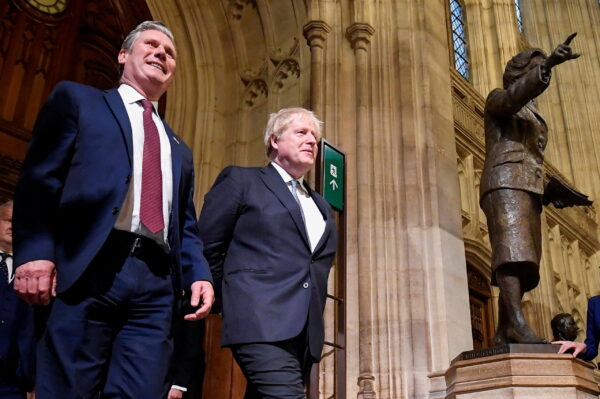 In an introduction to the Queen's Speech, the prime minister warned the government cannot "completely shield" people from the rising cost of living.
"We must … remember that for every pound of taxpayers' money we spend on reducing bills now, it is a pound we are not investing in bringing down bills and prices over the longer term," he said.
"If anything, this moment makes clear our best remedy lies in urgently delivering on our mission to turbo-charge the economy, create jobs, and spread opportunity across the country."
The main opposition Labour Party was dismissive about the government's pledge.
"Some 12 years of the Conservatives have meant low economic growth, high inflation, and high taxes," Labour leader Sir Keir Starmer said, adding: "The Tories are not up to the challenge of growing the economy."
With the war in Ukraine raging, the government's programme also includes a series of measures to give the security services extra powers to tackle foreign spies and efforts to influence British democracy.
Jack Phillips, PA Media, and Reuters contributed to this report.