The UK government on Wednesday unveiled its blueprint to "level up" underdeveloped parts of the country, as Prime Minister Boris Johnson battles to retain confidence in his premiership.
A new white paper sets out a 10-year plan including shifting powers to England's local authorities, improving physical and digital connectivity, increasing homeownership, tackling crime, and boosting education, training, and investment across the country.
It comes as Johnson faces the prospect of a vote of no-confidence after senior civil servant Sue Gray found "failures of leadership and judgment" by parts of Number 10 and the Cabinet Office in her inquiry into alleged lockdown-breaching parties in Downing Street.
Johnson adopted the "levelling up" slogan as shorthand for tackling regional inequalities, particularly between former industrial areas and London and the southeast, in the 2019 election which saw the Tories make huge gains in Labour's previously impregnable "red wall" heartlands.
The blueprint, unveiled by levelling up minister Michael Gove, set out 12 missions to be achieved by 2030 that will be enshrined in law in a flagship Levelling Up and Regeneration Bill, the government said.
By 2030, every part of England will be offered the choice of a "London-style" devolution deal in what the government said is "the largest devolution of power from Whitehall to local leaders across England in modern times."
Other goals include narrowing the economic and "healthy life expectancy gap" between areas, developing a "globally competitive city" in each area, enhancing research and development investment outside the greater southeast, achieving 5G coverage for the majority of the population, improving the quality of rental homes, eliminating illiteracy and innumeracy among primary school leavers, increasing high-quality skills training, and boosting people's satisfaction with their town centres and engagement in their local culture and communities.
Johnson said it has been the "defining mission of this government" to "break the link between geography and destiny" and equalize opportunities across the country, while Gove said the agenda is about "ending this historic injustice and calling time on the postcode lottery."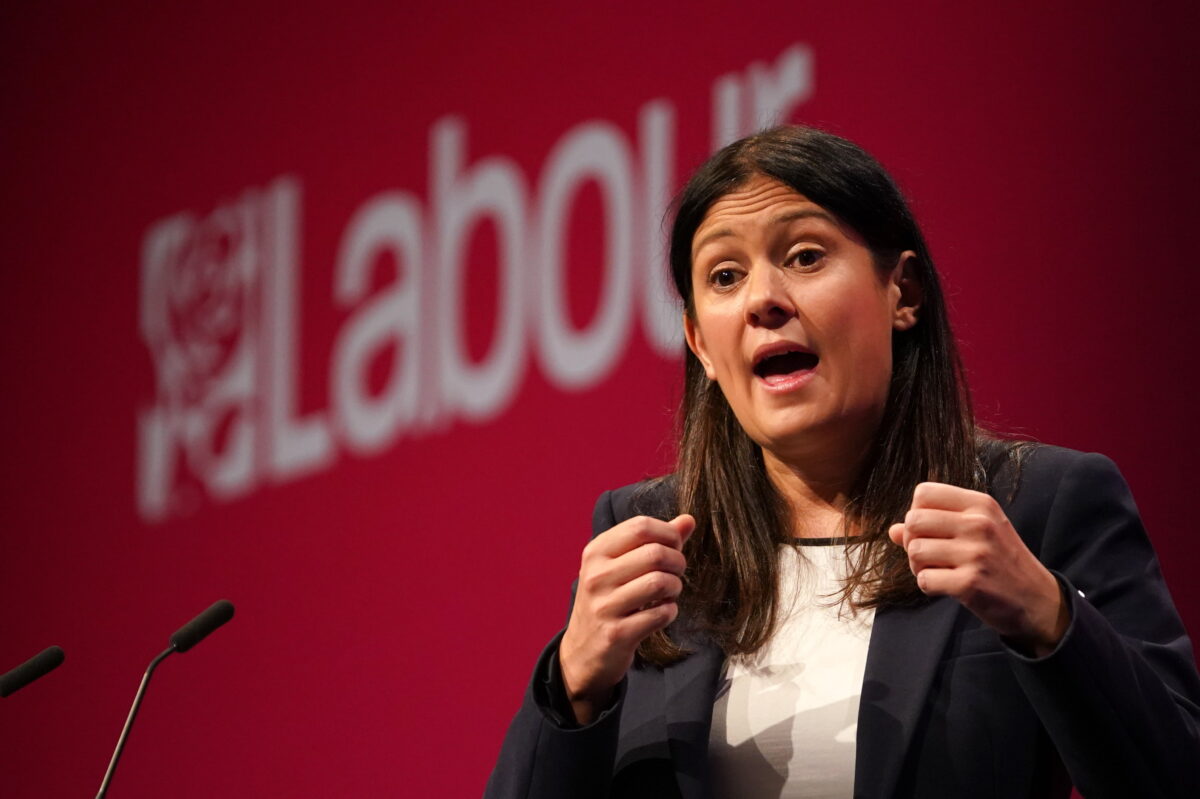 Lisa Nandy, Labour's shadow levelling up secretary, said the plan fell far short of what the country needed and what the government had promised.
"Ministers have had two-and-a-half years to get this right and all we been given is more slogans and strategies, with few new ideas," she said.
"Boris Johnson's answer to our communities calling for change is to shuffle the deckchairs—new government structures, recycled pots of money, and a small refund on the money this government have [sic] taken from us."
Labour leader Sir Keir Starmer also labelled the announcement as being "repackaged, rehashed, and recycled," alluding to funding and plans set out by Chancellor of the Exchequer Rishi Sunak in his Budget and Spending Review in October.
Asked if some of the funding has been previously announced, Gove told LBC, "There's a difference between Rishi announcing that he's going to give me money and me spending it."
"It may have been the case that a sharp-eyed political journalist will note that it was moved from one government account to another in October or November, but the reality is that it's new money that makes a difference when you get it in your community," he said.
Tracy Brabin, the Labour mayor of West Yorkshire, said there is "lots to be pleased about" in Gove's plan, but questioned if Sunak would provide enough funding to implement it.
"Lots of ambition, lots of hope, but unless you actually have the money and the resources, you are going to be struggling," she said.
Gove told BBC Radio 4's "Today" programme that Sunak did give him "a lot" of money in the Spending Review.
Asked if he had all the money he wanted, he said, "Well, in this life we never get everything we want, but, in the words of Mick Jagger, you might not always get what you want, but sometimes you get what you need."
PA Media and Reuters contributed to this report.