There are "clearly" lessons to be learned from the UK's evacuation of British and Afghan civilians from Kabul, Foreign Secretary Liz Truss said on Wednesday.
It comes after a whistleblower said the part of the operation that was overseen by the Foreign, Commonwealth, and Development Office (FCDO) was poorly equipped and badly coordinated, the prioritisation process was "arbitrary and dysfunctional," and the FCDO's Crisis Response structure was inadequate compared to the task.
Parliament's Foreign Affairs Committee questioned three FCDO senior officials on Tuesday over the allegations during an oral evidence session, which committee chair Tom Tugendhat said "points to a lack of leadership, urgency, and adequate resourcing" in the FCDO.
One of the officials, FCDO Permanent Under-Secretary Sir Philip Barton, was also grilled for taking a holiday on Aug. 9, when then-Foreign Secretary Dominic Raab was also on holiday, and not returning to London until Aug. 25.
Raab has also been heavily criticised for failing to return immediately from his holiday on the Greek island of Crete. He was replaced as foreign secretary in a Cabinet reshuffle two weeks after the crisis.
Speaking at the Chatham House policy institute on Wednesday, Truss said there was a "heroic effort" to airlift 15,000 people from Afghanistan as Kabul collapsed to the Taliban in August, adding, "Clearly there are lessons to be learned."
"The permanent secretary is clear that he should have returned from holiday earlier, as was my predecessor," she said.
Truss said she has put a process in place to address any future issues, including better risk monitoring, a better emergency response system, and better processes for deploying staff at speed in the event of a crisis.
"I'm absolutely confident that we now have those processes in place in the event—in the unfortunate event—of a similar situation," she said.
But the foreign secretary said she doesn't underestimate the challenge her predecessor had faced.
"It's worth pointing out though that the situation faced in Afghanistan was the second-largest evacuation that the UK has ever carried out. So I don't underestimate the challenge that the Foreign Office faced at the time."
She added that work had not stopped on bringing eligible people out of Afghanistan to the UK and international cooperation is needed to "stop Afghanistan becoming a hotbed of terrorism."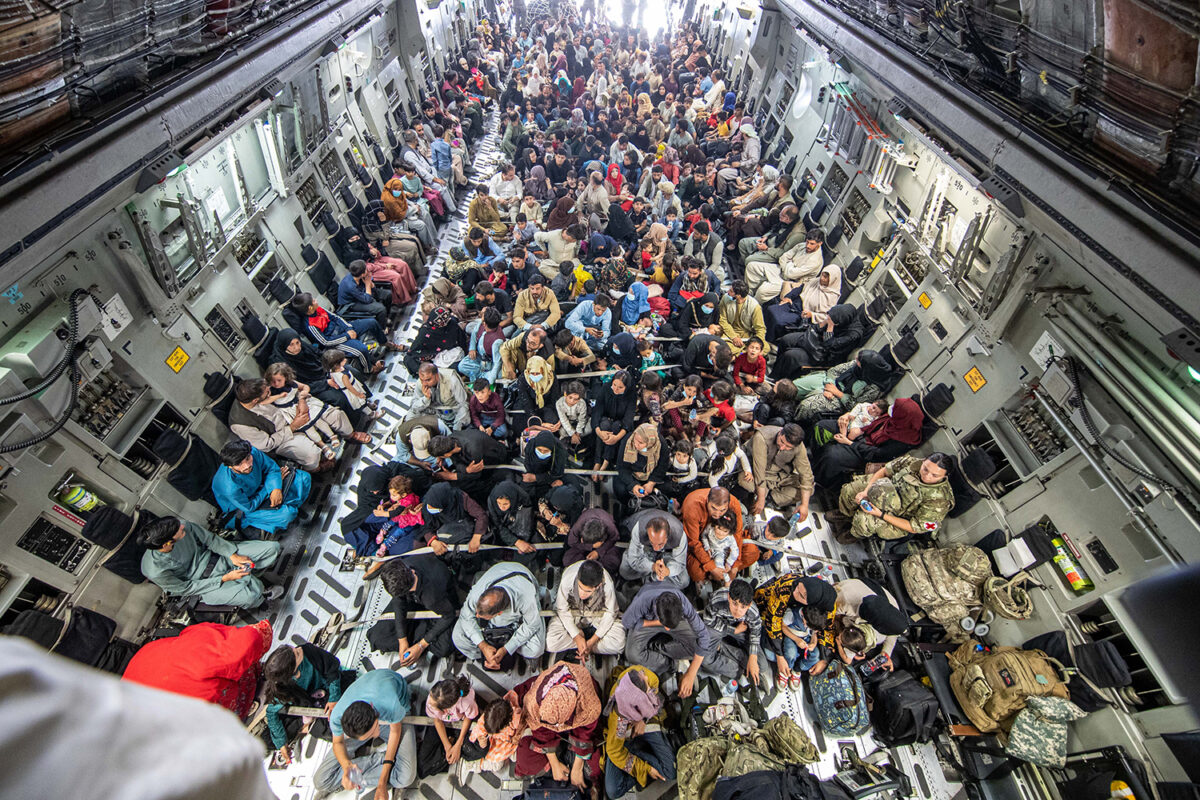 Raphael Marshall, a former FCDO desk officer who worked on the "Afghan Special Cases" team between Aug. 21 and Aug. 25, estimated that only 5 percent of the Afghans who applied for evacuation under the UK's Leave Outside the Rules (LOTR) scheme had "received any assistance."
In written evidence (pdf) submitted to the Foreign Affairs Committee, Marshall said he believes between 75,000 and 150,000 people (including dependents) had applied for evacuation under the LOTR scheme—a number that Barton said he didn't recognise.
Marshall said the team was so short-staffed at one point he was the only person monitoring an inbox where pleas for help were directed.
There were "usually over 5,000 unread emails in the inbox at any given moment, including many unread emails dating from early in August" when he was on the team, he said.
"These emails were desperate and urgent. I was struck by many titles including phrases such as 'please save my children,'" he said.
The 25-year-old former desk officer said it was "inevitable" to leave most of the applicants behind, giving the situation in Kabul and the Aug. 31 deadline to complete the Western withdrawal, but the FCDO's process for selecting the evacuees was not "credible" and "avoidable bureaucratic problems significantly delayed the 'calling forward' of prioritised evacuees to the airport."
Marshall said soldiers on the team didn't receive passwords to their FCDO-issued computers until one day later, and some soldiers "were likely using Microsoft Excel or Microsoft Outlook for the first time in a professional context."
He also said the criteria given for selecting evacuees were "very unhelpful," leaving junior officers who didn't have any Afghan-related experience sifting through applications with no clear guidance.
The lack of coordination between the FCDO, Ministry of Defence, and the Home Office, and between the UK and other NATO allies, also contributed to the delay, as well as the time Raab took to review the list, Marshall alleged.
Marshall said the FCDO's Crisis Response structure is "not capable of satisfactorily responding to a crisis of the urgency, importance, and complexity of the situation in Kabul in Afghanistan."
Prime Minister Boris Johnson told reporters on Tuesday that "sometimes decisions took hours longer than we wanted" during the evacuation, but "you have to be careful about how you do it, it was still an astonishing thing to get 15,000 people airlifted out of Kabul in pretty harrowing circumstances."
PA contributed to this report.