Britain's Foreign Office has summoned China's ambassador to express its concerns over the imposition of a national security law in Hong Kong.
Liu Xiaoming, the Chinese regime's top diplomat in London, was called to a meeting with the Foreign Office's permanent undersecretary, Sir Simon McDonald, on July 1, according to reports by Sky News and other British media outlets.
McDonald expressed the UK's "deep concern" over the new law, pointing out that the law breaches the 1984 Sino-British Joint Declaration, in which the Chinese regime promised to guarantee Hong Kong a high degree of autonomy for 50 years after the territory was handed back to China in 1997.
The law, which was imposed at 11 p.m. on June 30, stipulates that offenders, if convicted of secession, subversion, terrorism, and collusion with foreign forces, could be imprisoned for life.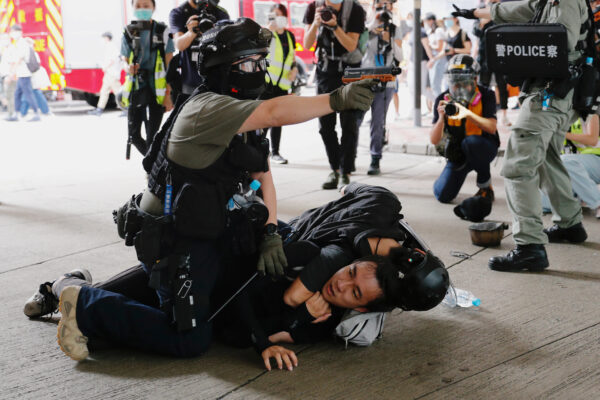 On July 1, as protesters defied a police ban to march against the legislation, Hong Kong police fired pepper spray, tear gas, water cannons, and made about 370 arrests, 10 of which were made under the new security law.
The draconian legislation has sparked international outcry, with criticisms coming from more than 27 countries, as well as Taiwan and the European Union.
British Prime Minister Boris Johnson said on July 1 that the law "constitutes a clear and serious breach of the Sino-British Joint Declaration," as it "violates Hong Kong's high degree of autonomy and is in direct conflict with Hong Kong basic law."
To honor its historical obligation to the people of Hong Kong, the British government announced it will extend immigration rights for an estimated 3 million Hong Kong residents who hold British National (Overseas) status.

Under the proposed "bespoke immigration route," according to Foreign Secretary Dominic Raab, BNO status holders will be able to stay in the UK for five years with the right to work or study. After five years, they can apply for settled status, and for citizenship one year later.
The measure is supported across the political spectrum. The opposition Labour Party welcomed the government initiative and encouraged it to go further and offer protection to young Hong Kong activists who do not hold BNO status.
It is also popular among the British public. According to a new poll conducted for the Conservative Party's China Research Group, voters backed the idea of allowing BNO status holders to come to the UK by a margin of 61 to 11 percent.
The Australian government is also working on a scheme to offer similar "safe haven" arrangements for Hong Kong residents, Prime Minister Scott Morrison said on July 2.
Isabel van Brugen contributed to this report.