Practitioners of Falun Gong, also known as Falun Dafa, gathered in London on Sunday to celebrate World Falun Dafa Day.
May 13, 2021, marks the 29th anniversary of the spiritual practice's introduction to the public in China in 1992, and the 70th birthday of its founder Li Hongzhi.
Dozens of practitioners meditated opposite the Chinese Embassy in London to mark the event and to protest against the 22-year persecution of the peaceful practice in China.
"I'm so happy to be here. I love being with all the other practitioners. It's just such a wonderful feeling to be with everyone. And especially after lockdown, it's so good to see everyone again," therapist Racheli Senanayake told NTD, sister company of The Epoch Times.
For years, Senanayake and her husband Lasitha, an operations executive, have been at London's Trafalgar Square every weekend to tell passers-by about Falun Gong and the persecution its followers have been suffering in China.
"For me, it's my responsibility to speak out for the people that can't [speak out] in China," Senanayake said. "Here, if I do that, I'm not arrested, but in China, that's what's going to happen.
"I also practice Falun Gong, and they can't speak out for their belief so I do it here for them," she added.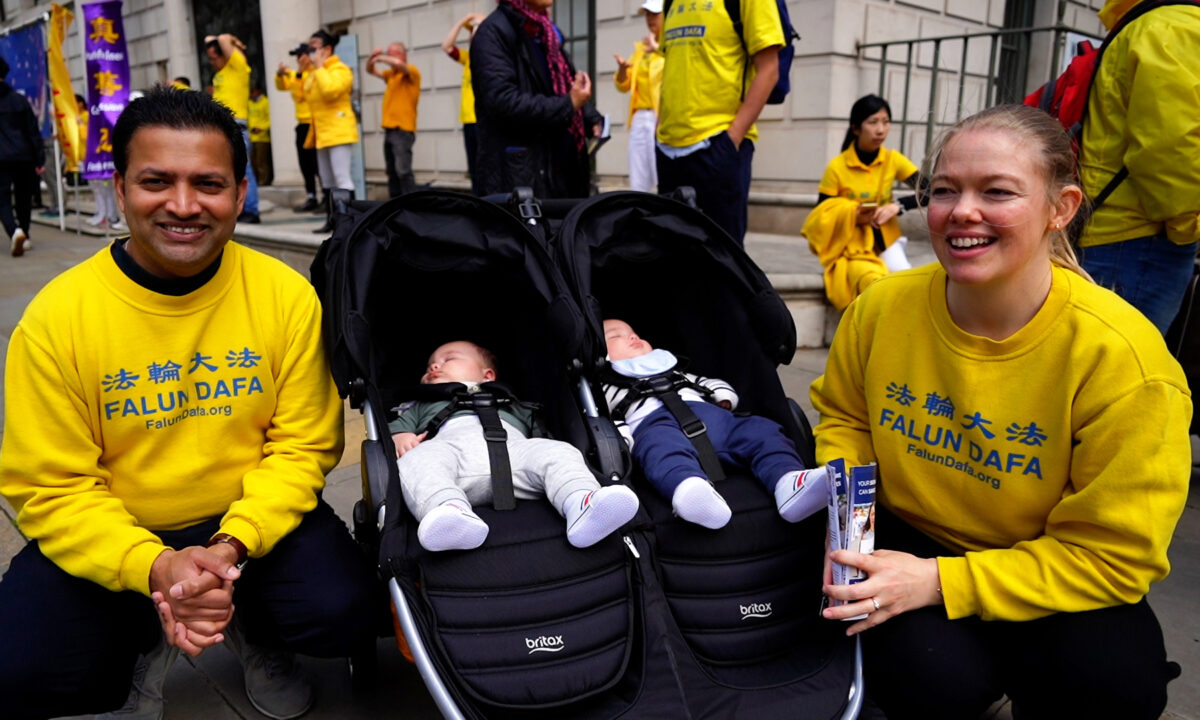 Voices of Support
Greetings from several politicians who sent well-wishes and expressed their appreciation of Falun Dafa's doctrine of "truthfulness, compassion, and tolerance" were read during the event.
"On behalf of the citizens of Cardiff, I express my deepest gratitude to all observing Falun Dafa Day, for making our world a more harmonious, peaceful place through your commitment to the values of truthfulness, compassion, and tolerance," Lord Mayor of Cardiff Rod McKerlich wrote.
Peter Holland, lord mayor of Exeter, also sent his message of support on behalf of the citizens of his city.
"Discrimination threatens the very fabric of civilisation," he wrote. "Our world often feels fragile and vulnerable and we cannot be complacent. Prejudice and the language of hatred must be challenged by us all. Memorial days of this kind enable everyone to better understand how hurtful mankind continues to be."
"The values of the Falun Dafa community, truthfulness, compassion, and tolerance, are my values and if adopted across all nations then I am confident that the world will be a much better place," he added.
Other notable figures who extended their well-wishes included Raymond Hervey Jolliffe, fifth Baron Hylton; professor Margot Ruth Aline Lister, Baroness Lister of Burtersett; Alan Robert Haworth, Baron Haworth; Leslie Arnold Turnberg, Baron Turnberg; and Denise Hyland, deputy mayor of the Royal Borough of Greenwich.