BIRMINGHAM, England—When the U.K. general election was announced a month ago, it looked like a historical shoo-in for the incumbent Conservative Party.
But an unexpected surge in Labour support has thrown down the gauntlet to pollsters still nursing their wounds after failing to predict the results of Britain's vote on leaving the European Union and the 2015 general election.
Polling six weeks ago put the Conservative Party at 48 percent and the Labour Party at 24 percent, with some pollsters predicting this would translate to a historic majority of over 430 seats out of 650 in the lawmaker chamber.
But the gap in the polls has been steadily closing. With the nation heading into the final week of campaigning, polls put the Conservative lead at just 7 percent, with 43 percent saying they intend to vote Conservative, versus 36 percent Labour.
Most political analysts still expect a Conservative victory on June 8.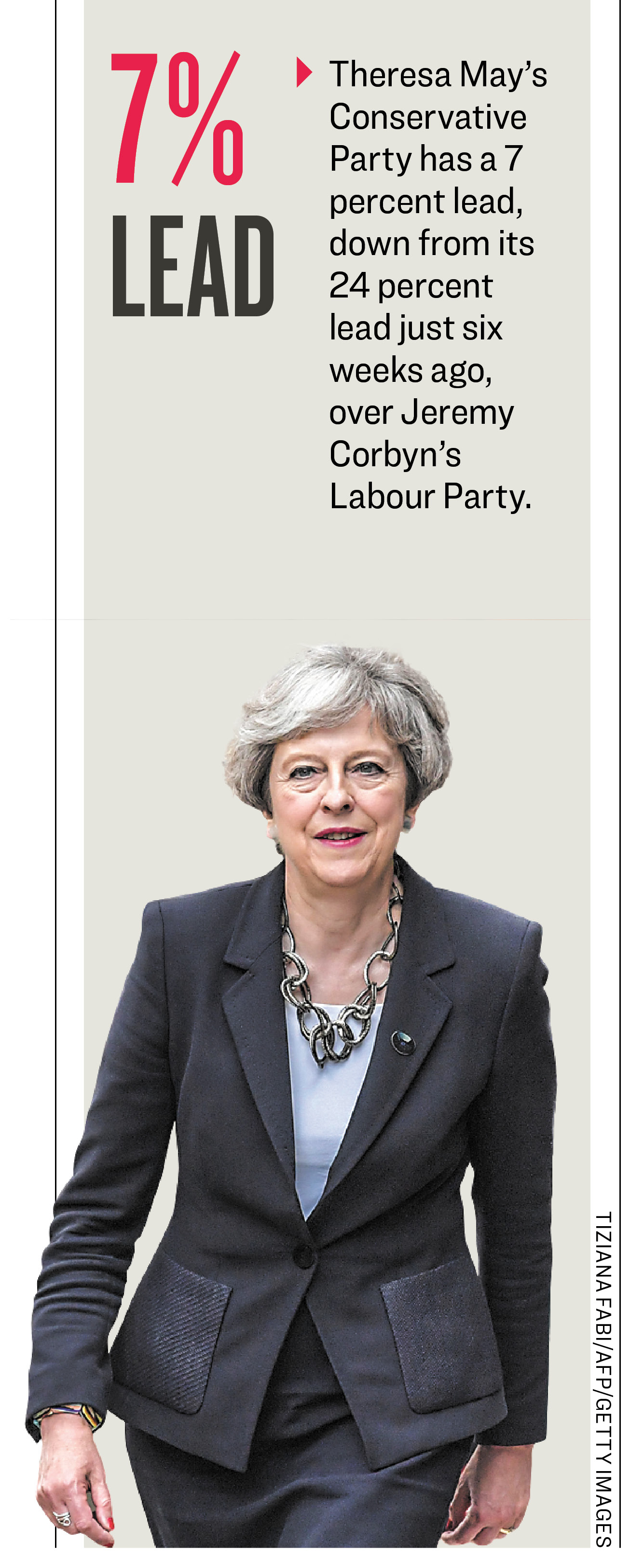 The Conservatives have focused on a mantra of "strong and stable leadership," arguing that May is best equipped to lead the United Kingdom through the Brexit process.
Labour leader Jeremy Corbyn is far less popular than Prime Minister Theresa May, according to polls, and some Labour Party candidates openly admit that they try to avoid talking about him when electioneering.
The Labour Party has focused more on traditional election fare: highlighting public dissatisfaction with inequality and cuts to services under seven years of Conservative austerity policies.
Both major parties have promised to see Brexit through. The main difference appears to be whether they are willing to walk away from the Brexit deal offered by the EU, meaning a "hard Brexit" without specifically tailored trade arrangements.
"We will be there to negotiate the right deal, but what I have said is that no deal is better than a bad deal. We have to be prepared to walk out," said May, in an interview on Sky News on May 29.
Corbyn told the same program: "There's going to be a deal. We will make sure there is a deal."


Joe Twyman, head of political and social research at polling company YouGov, said that one of the main reasons for the drop in Conservative support was a proposal on social care for the elderly, quickly dubbed the "dementia tax" by critics. Under the proposal, anyone receiving home care would need to pay for it through the value of their home after death. The policy was so badly received that it was dropped from the election manifesto.
"[The] U-turn from the Conservatives over social care, unprecedented in an election campaign, helped to deflate Theresa May's 'strong and stable' bubble somewhat, if not burst it completely," wrote Twyman, in an article on the YouGov website on May 30.
Like other analysts, he notes that although polls show voting intent has shifted toward Labour, there are other underlying trends that could nudge voters in the voting booth.
"[Conservatives] still enjoy a substantial lead on issues such as security, the economy, and Brexit, while Theresa May is more favored, by some distance, over Jeremy Corbyn when it comes to who the public think would make the best prime minister," wrote Twyman.
"These factors have been hugely important in pointing to previous election victories, including in 2015, and the same may well be true this time around."
Recent shifts in the political landscape, such as Brexit, have made it harder for pollsters to factor in elements such as voter apathy, demographics, age, and past voting patterns.