The UK government on Monday joined international calls for Russia to release opposition politician Alexei Navalny, who was detained on Sunday.
Navalny, a prominent critic of Russian President Vladimir Putin, was detained on arrival at a Moscow airport after he flew home to Russia from Germany for the first time since he was poisoned last summer.
Navalny could be jailed for three-and-a-half years for allegedly flouting the terms of a suspended prison sentence.
"It is appalling that Alexei Navalny, the victim of a despicable crime, has been detained by Russian authorities. He must be immediately released," UK Foreign Secretary Dominic Raab said in a statement.
"Rather than persecuting Mr. Navalny, Russia should explain how a chemical weapon came to be used on Russian soil."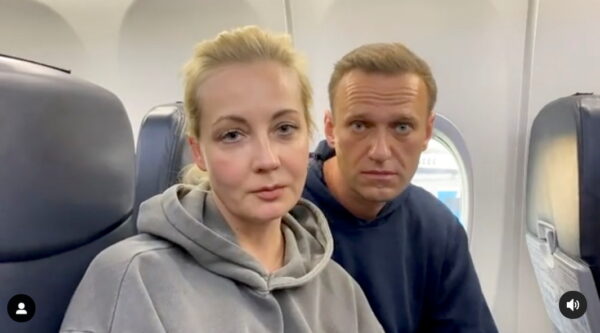 The United States and the European Union have already demanded Navalny's release.
The U.S. Department of State said it "strongly condemns" Russia's decision to arrest Navalny and demanded his "immediate and unconditional release."
"The Russian people, like people everywhere, deserve a government that supports an open marketplace of ideas, transparent and accountable governance, an independent judiciary, and the ability to exercise their basic human rights of speech and assembly without fear of retribution."
"We urge the Russian government to provide a level playing field for all political parties and candidates seeking to compete in the electoral process," said the State Department.
European Commission President Ursula von der Leyen also condemned Navalny's detention and said the Russian authorities "must immediately release him and ensure his safety."
She said the EU continues to expect "a thorough and independent investigation on the attack on Alexei Navalny's life" and will "monitor the situation closely."
In a case that drew wide international attention, Navalny was poisoned last summer by what German military tests showed was a Novichok nerve agent, a version of events the Kremlin rejects.
Navalny says Putin was behind his poisoning. The Kremlin denies involvement, saying it has seen no evidence that he was poisoned, and that he was free to return to Russia.
The Moscow prison service (FSIN) said in a statement that Navalny had been detained due to the alleged violation of a suspended prison sentence for embezzlement, a 2014 case Navalny says was trumped up.
FSIN said he would be held in custody until a court hearing later this month that will rule whether to convert his suspended sentence into a real jail term.
Reuters contributed to this report.