Britain's daily death toll from the CCP virus dropped to 82 on March 7, the first time the figure has fallen below 100 since last October.
According to official statistics, on Sunday, 5,177 new CCP (Chinese Communist Party) virus cases were reported across the UK, and 82 deaths were reported within 28 days of a positive test.
The last time the figure was below 100 was on Oct. 19, 2020, when 80 deaths were reported across the UK.
The #COVID19 Dashboard has been updated: https://t.co/a0y3StFiss

On Sunday 7 March 2021, 5,177 new cases and 82 deaths within 28 days of a positive test were reported across the UK

A total of 22,213,112 people have now received the first dose of a #vaccine. pic.twitter.com/jJyGnTh5gE

— Public Health England (@PHE_uk) March 7, 2021
On Monday, schools in England reopened to all pupils as the government began easing lockdown measures intended to the curb the spread of the virus.
UK Prime Minister Boris Johnson said that this marked the first step towards normality and was only possible because of public efforts to bring COVID-19 infection rates down.
Johnson on Feb. 22 set out his "roadmap" out of the lockdown, which includes four stages with five weeks in between.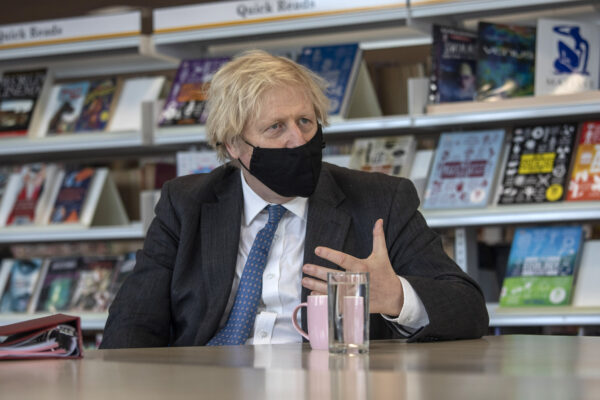 Under the government plan, COVID-19 restrictions on social contact will not be completely removed until June 21 at the earliest.
Some backbench MPs in the ruling Conservative Party have expressed opposition to the continuing lockdown rules even as infection rates are dropping rapidly across the country.
Infections have fallen by two-thirds since January, according to new findings from REACT-1, one of the country's largest studies into COVID-19 infections in England, which was conducted by Imperial College London and Ipsos MORI.
Despite the receding infection rates, the UK government is stepping up its crackdown on "illegal" foreign trips.
From March 8, passengers travelling abroad from England will need to carry a form proving their trips are essential.
Sir Graham Brady, chairman of the influential 1922 Committee of Conservative MPs, told NTD last week that the pace of the planned exit is "slower than many of us would have liked" and "slower than the data would suggest is possible."
He said there was "some frustration" among Tory MPs, who "would like to see more progress, more freedom given back to our constituents."
"My most fundamental concern about the lockdown approach is that it has interfered with really fundamental human rights," he said.
With reporting by Jane Werrell of NTD.