The first flight to relocate the UK's illegal entrants has been given a green light after Court of Appeal judges dismissed a last-ditch blocking effort on Monday.
But the number of people who will be on Tuesday's flight has been reduced the eight, according to Care4Calais, one of the charities challenging the policy.
Court of Appeal judges on Monday upheld the High Court's decision not to grant an injunction to prevent any deportation flight from taking off until a full hearing next month on whether the policy is lawful.
The judges also refused permission for an appeal to the Supreme Court against their decision.
The British government signed a £120 million ($146 million) deal in April allowing the UK to put eligible illegal immigrants, including asylum seekers, on one-way flights to Rwanda, where they will be granted asylum or given access to other routes of settling down. The eligibility for relocation is considered on a case-by-case basis.
But the plan has been met with fierce opposition, with charities trying to remove people from the planned flights and stop the flights altogether.
High Court judge Justice Jonathan Swift on Friday refused to grant an interim injunction to halt the flights, saying he did not consider that "the balance of convivence favours the grant of the generic relief."
The Public and Commercial Services union (PCS), which represents more than 80 percent of Border Force staff, and charities Care4Calais and Detention Action challenged Swift's decision.
Raza Husain QC, representing the three organisations and a deportee, argued that the High Court judge wrongly decided the "balance of convenience."
But, following an urgent hearing in London on Monday, three senior judges dismissed the appeal, saying there was no error in Swift's decision.
Lord Justice Rabinder Singh, sitting with Lady Justice Ingrid Simler and Lord Justice Jeremy Stuart-Smith, said Swift had "conducted the balancing exercise properly" and did not err in principle nor in the approach he took.
"He weighed all the factors and reached a conclusion which he was reasonably entitled to reach on the material before him," Singh said. "This court cannot, therefore, interfere with that conclusion."
During the hearing, Husain argued the United Nations High Commissioner for Refugees (UNHCR) was concerned about "deficiencies" in Rwanda's process including "arbitrary denial of access to the process, lack of interpreters, absence of training and low numbers of eligibility officers, systemically biased decision-making especially in claims from Middle-Eastern applicants, absence of reasons for rejection, and inadequate appeals processes."
Rory Dunlop QC, representing the Home Office, told the court that Home Secretary Priti Patel had "listened and seriously considered" UNHCR's concerns and "deliberately negotiated arrangements to provide assurances in relation to those concerns."
Dunlop said the flight is "important" because "this is a policy that if it works, could save lives as well as disrupting the model of traffickers."
"This is a policy which is intended to deter dangerous and unnecessary journeys, journeys from safe third countries by people who do not need to make that journey to be safe, they can claim in France or wherever it is," he said.
Husain told the court that one person from Syria who may be sent to Rwanda had experienced trafficking and false imprisonment during his journey, and "was told he had to get in a boat to the UK by his agent."
Many of Britain's illegal immigrants arrived in small boats from Europe, as the country doesn't share a land border with others.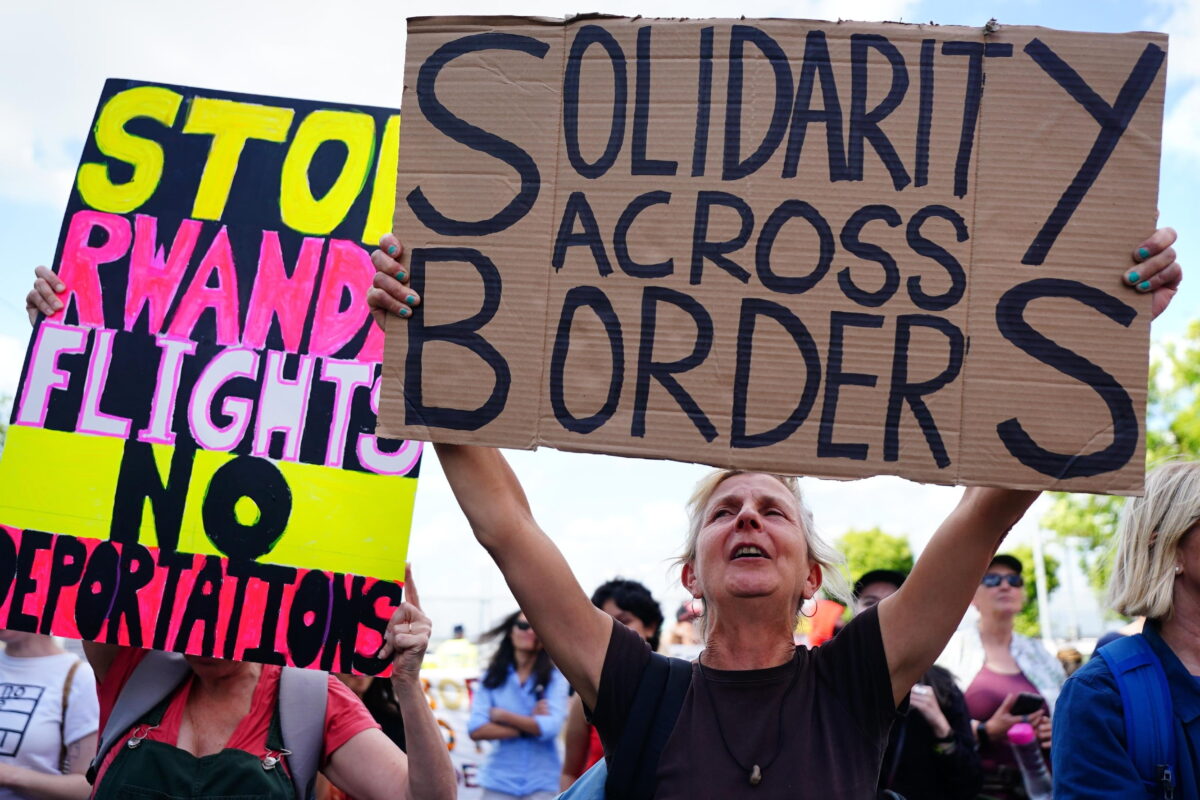 Shortly after the Court of Appeal dismissed the appeal, Swift rejected another request by Charity Asylum Aid to block the flight.
The High Court on Friday heard 31 people were due to be on Tuesday's flight to the Rwandan capital of Kigali. By Monday afternoon, Care4Calais said 23 of them had their tickets cancelled, with eight live tickets remaining.
The Home Office declined to comment on operational matters including the number of people set to be onboard the Kigali-bound flight on Tuesday.
In an email to The Epoch Times, a government spokesperson said, "We welcome the court's decision in our favour, and we will now continue to deliver on progressing our world-leading Migration Partnership which will help prevent loss of life and break the business model of vile people smugglers.
"While we can still expect further legal challenges and last-minute claims, we have always maintained that everything we are doing is compliant with our national and international obligations.
"Rwanda is a safe country and has previously been recognised for providing a safe haven for refugees—we will not be deterred in delivering our plans to fix the broken asylum system which will ultimately save lives."
PA Media contributed to this report.