A United Kingdom consular worker who was detained in China for 15 days has returned to Hong Kong, according to his family.
Simon Cheng was detained by Chinese authorities after traveling to the mainland Chinese city of Shenzhen, two weeks ago. In a statement Saturday morning, his family said the 28-year-old Hong Konger had returned home.
Developing story: #simoncheng has reportedly returned to #hongkong having been held in #china for 15 days. He apparently texted his girlfriend to say "pray for me" as he was heading home. We'll have the latest @ 3G. pic.twitter.com/yaMKMgOMOP

— Peter Dobbie (@peterdobbie1) August 24, 2019
"Simon has returned to Hong Kong; thanks you everyone for your support!" read a post on a Facebook page set up following his disappearance and authorized by his family. "Simon and his family wish to have some time to rest and recover … We will explain more later."
Simon Cheng's family has just announced that he has returned to Hong Kong and wishes to have some time to rest and recover before taking media interviews.

The British consulate staffer had been missing since travelling to Shenzhen on August 8 https://t.co/aqheuCB8OX pic.twitter.com/DZe6kMA0Vt

— Aaron Mc Nicholas (@aaronMCN) August 24, 2019
Police in Luohu, a district of Shenzhen, confirmed Cheng's release on Aug. 24. He was freed "upon completing his term of detention," police said in a statement posted to social media.
The British government welcomed Cheng's release.
"We welcome the release of Simon Cheng and are delighted that he can be reunited with his family. We will continue to provide support to them," a spokesman for Britain's foreign ministry said.
"Simon and his family have requested privacy and we would be grateful if this is respected."
It remains unclear exactly why he was first detained. China's Ministry of Foreign Affairs (MOFA) had said he would be held for 15 days under administrative detention for violating China's Security Administration Punishment Law, which covers a range of offenses deemed too minor to be crimes.
But on Aug. 22, Global Times reported that Cheng had been detained for "solicitation of prostitution." The report attributed the information to police in the Luohu district of the Chinese border city of Shenzhen, where Cheng had been traveling on business on Aug. 8 in his role as a trade officer.
Luohu police have declined to comment on the claim. In a statement, Cheng's family said the prostitution allegations were a "joke." In the past, China has been criticized for arresting dissidents and activists on trumped up charges, including sex crimes.
The family of Simon Cheng of @UKinHongKong have released a statement outlining the sequence of events surrounding his disappearance

"We feel very helpless, and are worried sick about Simon. We hope that Simon can return to Hong Kong as soon as possible." https://t.co/OFYFVgByrm pic.twitter.com/7WSudFoNVx

— Aaron Mc Nicholas (@aaronMCN) August 20, 2019
According to the statement Aug. 24 from Luohu police, "law enforcement guaranteed Cheng's legal rights and interests in accordance with the law" during his detention.
Friends feared that Cheng's detention might in fact have been linked to recent pro-democracy protests in Hong Kong, noting that he had shared pro-democracy images on social media and had voiced support for the city's ongoing protest movement.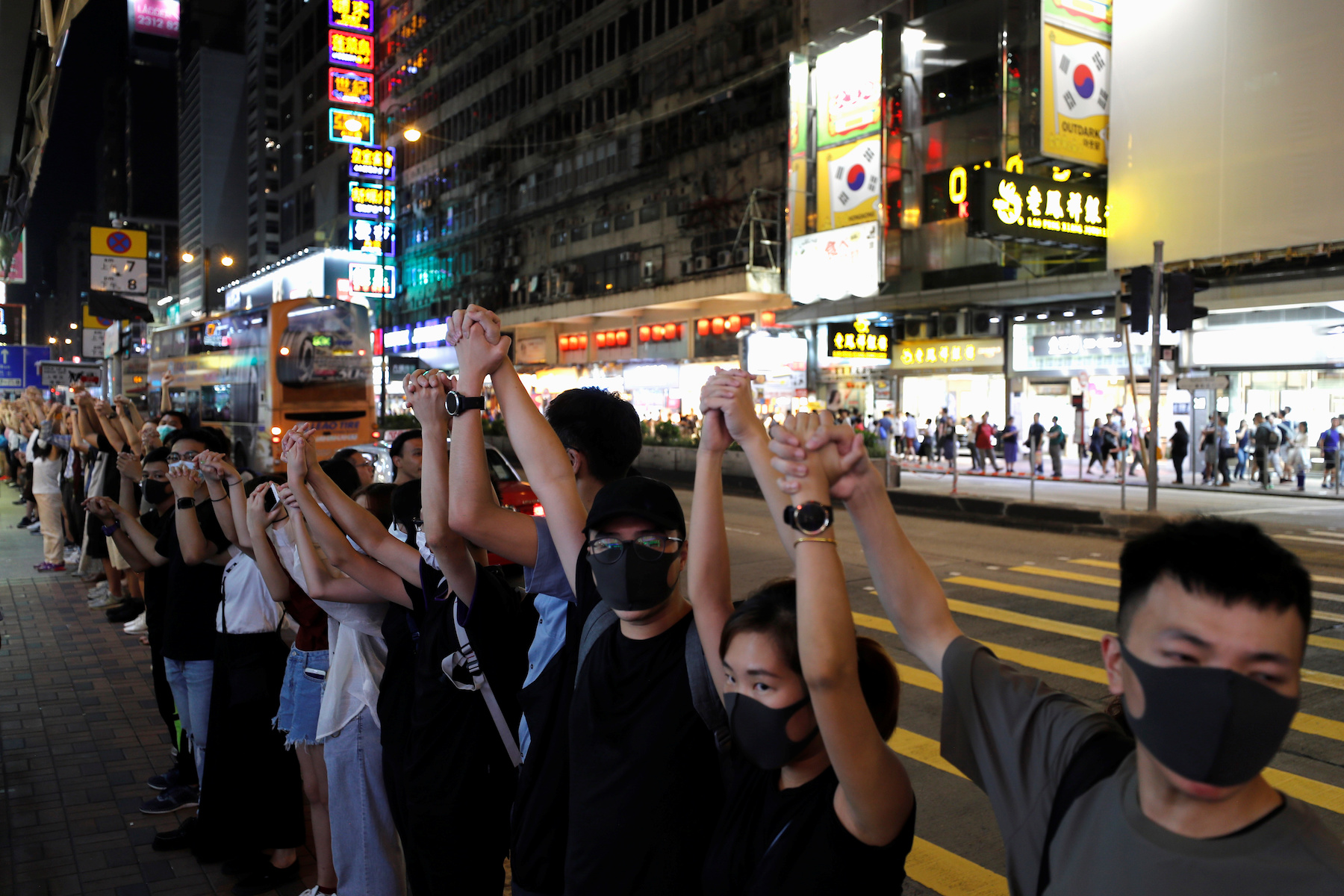 His arrest came amid reports that Chinese immigration officials are regularly searching travelers' phones and bags for evidence they have taken part in protests, as they try to cross the border between Hong Kong and mainland China.
However, Cheng's friend Tommy Cheung said he did not see his friend at the actual protests, and said Cheng's detention exemplified why Hong Kongers first began protesting the now-suspended bill that would have allowed extradition of suspected criminals to China.
"And it is justifying why people worry about the rule of law in China," he said. "Because they have no rule of law in mainland China."
Reuters contributed to this report.