The field will be narrowed again on Monday evening for candidates vying to be the UK's next prime minister.
One of the five Conservative leadership hopefuls is expected to be eliminated in the third ballot following two televised debates on Friday and Sunday.
But the third televised debate planned for Tuesday has been canceled after two contenders, Foreign Secretary Liz Truss and former Chancellor of the Exchequer Rishi Sunak, said they didn't want to take part.
Sky News, the network that was meant to host the debate, said in a statement that "Conservative MPs are said to be concerned about the damage the debates are doing to the image of the Conservative Party, exposing disagreements and splits within the party."
Tax
During Sunday's debate hosted by ITV, economic policy remained the main point of conflict, with Sunak under fire from all directions.
Truss criticized Sunak, who was the boss of the Treasury until 12 days ago, for raising taxes "to the highest level in 70 years," saying his policy "will choke off economic growth."
Sunak defended his record, blaming the tax rising on the "once-in-a-century" COVID-19 pandemic. He also labeled the other candidates' tax-cut policies as "something-for-nothing economics," saying it "isn't conservative, it's socialism."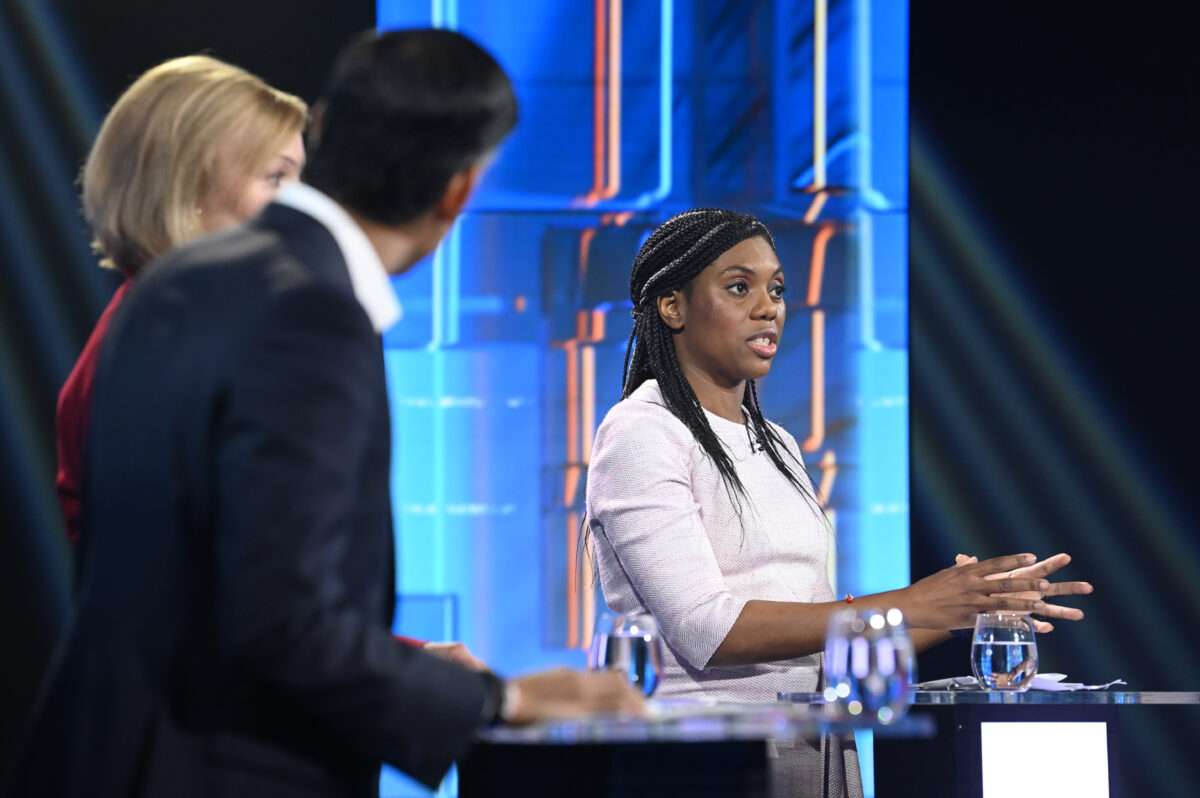 Asked on Saturday if he saw himself as a socialist chancellor, Sunak dismissed the label, saying he wants to get a grip on inflation before delivering tax cuts.
Trade policy minister Penny Mordaunt, who said she will halve VAT on fuel and look to raise personal taxation thresholds in line with inflation, denied her plan is inflationary, but her refusal to set out a more detailed economic plan was met with questioning from Tom Tugendhat.
Tugendhat promised to reverse the recent tax rise on national insurance and cut fuel duty. The Foreign Affairs Committee chair also said in the previous debate that he would make full expensing permanent, meaning businesses will be allowed to deduct the cost of new equipment in full immediately instead of spreading it over a number of years.
Kemi Badenoch, who held a number of ministerial roles in three government departments, said she will cut fuel duty and do an emergency budget that prioritises tackling inflation.
COVID-19 Loan Fraud, Defence Spending, China
Sunak, who topped the candidates league during the first two rounds of ballots, also clashed with other candidates over a number of issues.
Badenoch, who worked at the Treasury during the first 18 months of the COVID-19 pandemic, accused Sunak of dismissing ministers' concerns over COVID-19 load fraud and costing taxpayers £17 billion ($20 billion).
Sunak defended his decision, saying he had to prioritise getting money to businesses faster. He also said a system has been set up to recover funds and the estimated cost of fraud has since been reduced by a third.
Mordaunt and Tugendhat took aim at Sunak's record on defence spending.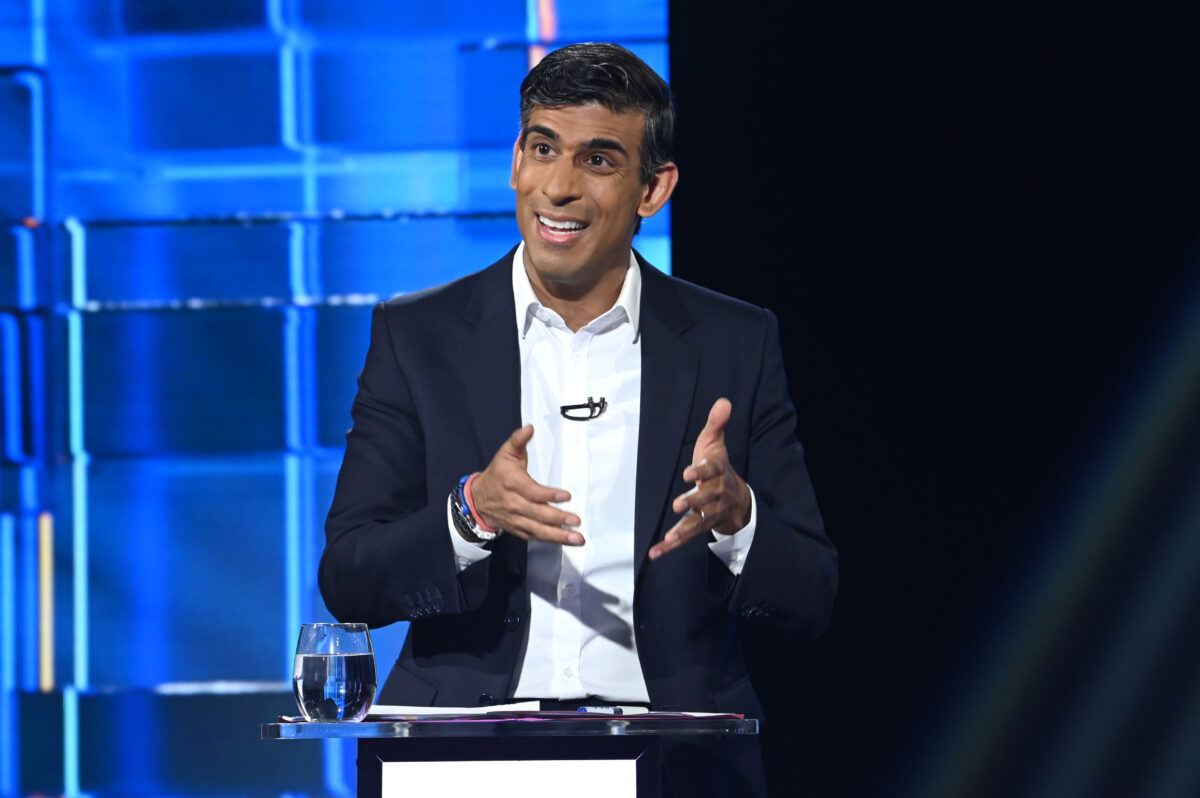 Asked why he wouldn't raise defence spending as chancellor, Sunak told Mordaunt he had "made sure that the MoD [Ministry of Defence], our defence, got the largest uplift in defence spending since the end of the Cold War."
Sunak said the UK should take a "threat-based approach to defence spending instead of fixating on arbitrary targets."
Tugendhat, a former soldier, then said 10,000 troops had been made unemployed during Sunak's chancellorship.
Truss asked whether Sunak "still think[s] we should be doing more business with China."
It comes after Global Times, one of the Chinese Communist Party's mouthpieces, wrote an article praising Sunak as the only candidate "with a pragmatic view of developing balanced ties with China."
In response to Truss, Sunak acknowledged that the Chinese regime is "an enormous threat" to the UK's national security, but said it shouldn't stop engagement between the two countries once the UK put measures in place to protect itself.
General Election and Net-Zero
Candidates were united in some areas, including not giving in to unions' demands on public sector salaries, not having Prime Minister Boris Johnson in the new Cabinet, and not calling a general election after the leadership race.
Asked if they would sit with Russian President Vladimir Putin at a G-20 summit, four candidates said they won't in current circumstances while Truss said she's prepared to call him out.
On the UK's 2050 net-zero climate target, four candidates said they're committed to the target but will do it in a way that won't make life too difficult for people and businesses, while Badenock said she will change the target if "there are things in the plan that will bankrupt this country."
The result of Monday's ballot is expected to be announced at 8 p.m., with further ballots held on Tuesday and Wednesday to produce the final two candidates who will compete for the votes of 160,000 Conservative Party members.
The final result will be announced on Sept. 5, with the new prime minister taking office on the next day.