British police said on Tuesday a third Russian had been charged in connection with the 2018 Novichok attack on former double agent Sergei Skripal in the English city of Salisbury.
Skripal and his daughter Yulia were found unconscious, slumped on a public bench in Salisbury in March 2018. They and police officer Nick Bailey, who went to his house, were left critically ill in hospital from exposure to the military-grade nerve agent.
A woman later also died from Novichok poisoning after her partner found a counterfeit perfume bottle that police believe had been used to smuggle the poison into the country.
Two Russian citizens—Alexander Mishkin and Anatoliy Chepiga—were charged in September 2018 with conspiracy to murder Skripal and the attempted murder of Yulia and Bailey.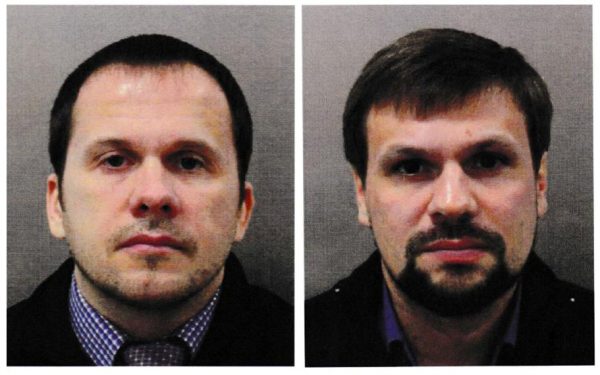 Britain's counter terrorism police confirmed on Tuesday that a third Russian—Denis Sergeev, who used the alias "Sergey Fedotov" while in the UK—had been charged in connection to the case.
UK police said they found that Sergeev, like the two previous suspects, is a member of the Russian military intelligence service GRU.
Addressing the House of Commons, Home Secretary Priti Patel condemned the "appalling" attack, which she said shook the entire country and "united our allies in condemnation."
"Should any of these individuals ever travel outside Russia, we will work with our international partners and take every possible step to detain and extradite them to face justice," she said.
Patel said the UK Parliament "has profound differences with Russia" over a host of issues such as the annexation of Crimea and the conflict in eastern Ukraine.
"Although attacks like this are uncommon, it is not the first time Russia has committed a brazen attack in the UK," she said.
Also on Tuesday, the European Court of Human Rights (ECHR) found that the Russian state was responsible for the 2006 poisoning of ex-KGB officer Alexander Litvinenko in London.
Litvinenko, who had become an outspoken critic of Russian President Vladimir Putin and had defected to the UK, died after his drink was spiked with polonium-210, a rare radioactive substance.
Patel said the UK government "will continue to take robust steps to counter the threat posed by the Russian state."
Talking to Sky News after the charges were announced, Prime Minister Boris Johnson said he believed "all the suspects should be handed over for justice."
He said Russia has already paid a "heavy price" over the poisoning, which resulted in the expulsion of Russian diplomats from multiple Western countries.
"They should recognise that our sense of justice must be done is not abated," he said.
PA and Reuters contributed to this report.