The total recorded deaths from the CCP virus in the UK has surpassed 100,000, Britain's Prime Minister Boris Johnson said on Tuesday.
"I'm sorry to have to tell you that, today, the number of deaths recorded from COVID in the UK has surpassed 100,000," Johnson said at a press conference held at 10 Downing Street in central London.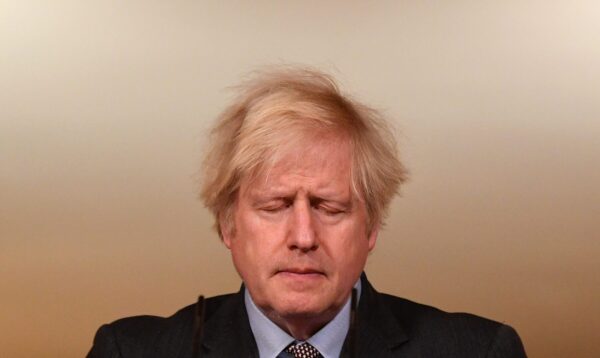 "It's hard to compute the sorrow contained in that grim statistic, the years of life lost, the family gatherings not attended, and to so many relatives, the missed chance even to say goodbye."
He offered his condolences to everyone who had lost a loved one, and expressed gratitude to the National Health Service (NHS), the police, and the emergency services for keeping the country going during what he called "our biggest crisis since the Second World War."
"The most important thing we can all do to honour the memory of those who have died is to work together with ever greater resolve to defeat this disease," he said.
Keir Starmer, leader of the UK's main opposition Labour Party, called the news of the grim milestone "a national tragedy."
The news that 100,000 people have now died of coronavirus is a national tragedy. pic.twitter.com/MK7XDBrWWv

— Keir Starmer (@Keir_Starmer) January 26, 2021
The COVID-19 death toll "is the equivalent of the population of UK towns such as Bath, or Stevenage, or Hastings," he said.
He called it "a terrible reminder of what we've lost as a country, an awful reminder that we have one of the worst death tolls in the world."
He said "we must promise to learn the lessons of what went wrong, and to build a more resilient country."
We will get through this, together. pic.twitter.com/QDGImzWHxZ

— Matt Hancock (@MattHancock) January 26, 2021
Also commenting on the news, Health Secretary Matt Hancock said, "As we mourn those who have died, so we must redouble our resolve to protect life."
"The vaccine roll-out is accelerating & over 6.8 million people have received their first vaccine," he wrote on Twitter.
Infection rates in England have been falling in recent days, but hospital admissions and deaths—which lag behind infections by around three weeks—remain high.
On Tuesday, the UK reported a total of 20,089 new CCP (Chinese Communist Party) virus cases and 1,631 deaths within 28 days of a positive test.
The #COVID19 Dashboard has been updated: https://t.co/XhspoyTG79

On Tuesday 26 January 2021, 20,089 new cases and 1,631 deaths within 28 days of a positive test were reported across the UK.

A total of 6,853,327 people have now received the first dose of a #vaccine. pic.twitter.com/bhEtmpj4NF

— Public Health England (@PHE_uk) January 26, 2021