The UK government has asked airlines to avoid Belarusian airspace following an incident on Sunday during which an Irish passenger aircraft was diverted to land in the Belarus capital of Minsk over a bomb alert and a dissident was arrested.
Transport Secretary Grant Shapp said he has instructed the UK Civil Aviation Authority (UK CAA) to make the request to airlines.
"Following the forced diversion of a @Ryanair aircraft to Minsk yesterday, I've instructed @UK_CAA to request airlines avoid Belarusian airspace in order to keep passengers safe," Shapps said on Twitter.
"I have also suspended Belavia's operating permit," he added, referring to the national airline of Belarus.
Lithuanian Prime Minister Ingrida Simonyte has said earlier on Monday that she would work with Lithuania's international partners to close the airspace of Belarus to international flights.
Belarusian ambassador to the UK Maxim Yermolovich has also been summoned to the Foreign Office after the incident, according to Foreign Secretary Dominic Raab.
The flight diverted on Sunday—with Belarusian opposition journalist Raman Pratasevich on board—was on its way to Vilnius, Lithuania from Athens, Greece, when a fighter jet escorted it to land in Minsk.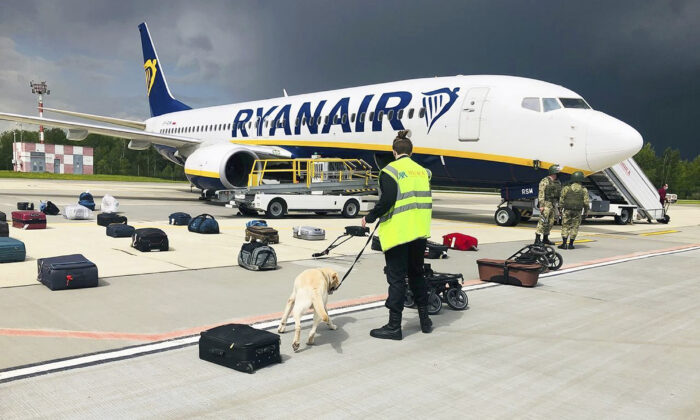 Pratasevich was arrested in Minsk after the plane landed.
According to the Belarusian presidential press service, President Alexander Lukashenko personally ordered the escort.
The incident has sparked outrage from the United States and European countries, the leaders of which say they are coordinating responses including sanctions.
A spokeswoman for the Lithuanian prime minister said on Monday that information from Ryanair suggested 126 passengers had departed the Greek capital and 121 were present on arrival in Lithuania.
Ryanair CEO Michael O'Leary had said earlier on the day that he believed some "KGB agents" were also offloaded from the aircraft in Minsk.
When asked in Parliament about Russian involvement, Raab didn't rule out the possibility.
"We don't have any clear details on that and I'll be careful on what I say at this point," Raab replied to Scottish National Party MP Alyn Smith.
"But as he [Smith] says it's very difficult to believe that this kind of action could have been taken without at least the acquiescence of the authorities in Moscow, but as I say it's unclear as yet," Raab told Parliament.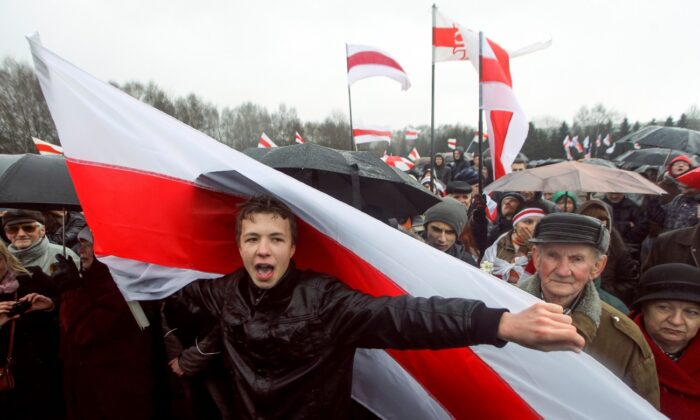 The Kremlin denied involvement.
"I do not know, I cannot say anything. I do not have any information," Spokesman Dmitry Peskov told media outlets.
After a reporter asked about claims from Belarusian opposition that says Russia was involved in the operation, Peskov responded: "This is the last thing I'd like to comment on. We do not have information about who was there. You see: 'They say.'"
The spokesperson also said that Russia "now would rather not participate in this race of condemning anybody or supporting anything."
On Monday afternoon, Belarusian officials claimed that the bomb threat on Sunday came from Hamas terrorist group.
Also on Monday afternoon, Lithuania's European Humanities University said its student Sofia Sapega was also detained in the same incident.
Reuters and PA contributed to this report.
Correction: The original version of this article misnamed Sofia Sapega's university. The Epoch Times regrets the error.