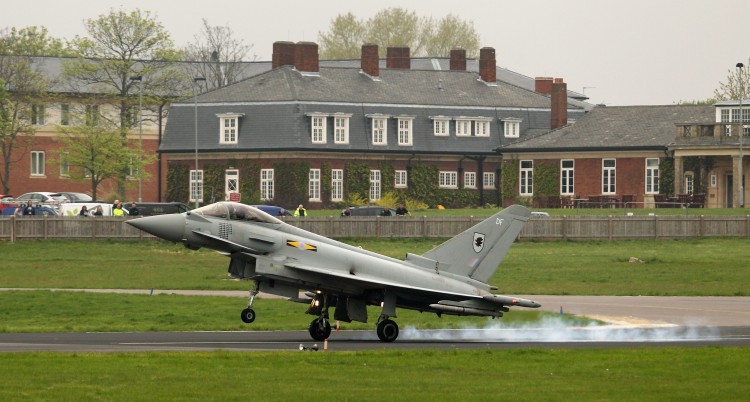 The U.K. deployed Royal Air Force (RAF) Typhoon fighter jets to the Northolt base in London on Wednesday as part of "Exercise Olympic Guardian" ahead of this year's summer games.
It is the first time that fighter planes have been stationed at the Northolt base since World War II. They arrive there for military exercises ahead of the Olympics.
"Whilst there is no specific threat to the Games, we have to be ready to assist in delivering a safe and secure Olympics for all to enjoy," the Secretary of State for Defense, Phillip Hammond, said in a statement.
The Exercise Olympic Guardian is a nine-day-long training operation over London and the Home Counties that starts Wednesday and ends May 10.
"As we undertake this essential training, there will be a visible and audible presence of RAF Typhoon and military helicopters operating above Greater London," Air Vice-Marshal Stuart Atha said.
Atha added, "There will also be flights occurring throughout the exercise period, to allow pilots and other forces to become familiar with operating in the London and Home Counties airspace."
The exercise will also involve Royal Navy Sea King helicopters, RAF Puma helicopters, and Army and Royal Navy Lynx helicopters.
"We have sought to limit the amount of flying to the minimum required to ensure that our Forces are ready for their important role delivering air security for the Olympics, balancing this against the need for us to reduce disturbance to a minimum," Atha said.
However, the Stop the War Coalition anti-war activist group said the exercises and military buildup around the Olympics are unnecessary.
"Far from safeguarding Londoners as they go about their daily lives, they will bring a real fear of explosions and the prospect of these places becoming a target for terrorist attack," Lindsey German with the Coalition told the BBC.