Two More Uighurs Killed in Urumqi
July 14, 2009 3:18 pm Last Updated: October 1, 2015 9:37 pm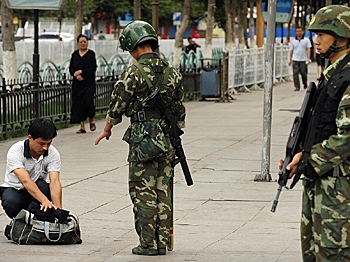 One week after the clash in the city of Urumqi, located in China's Xinjiang province, local officials claim that the situation has been stabilized. However, on Monday two more Uighurs were killed, and another injured.
The Xinhua News Agency ran a Xinjiang Autonomous Region government statement that claimed the latest incident was the result of three Uighurs trying to attack a fourth fellow Uighur. The police shot and killed two people, and wounded another.
But World Uighur Congress Spokesman Dilxat Raxit criticized police for spreading rumours of infighting among Uighurs. He stated to the Chinese-BBC that the Uighurs' only purpose for demonstration is to call for the release of imprisoned fellow Uighurs.
Two Uighurs who witnessed the incident from about 50 yards away told the AFP that soldiers opened fire on at least three Uighurs armed only with broadswords. Many local residents reported hearing sounds of gun shots.
"I heard ten gun shots followed by an even louder rumbling sound. Then we saw many people flee," said a local Uighur doctor,
One week after the Xinjiang turbulence, casualty figures are still mounting. The latest Xinjiang Uighurs Autonomous Region government statistics shows that over 160 people died in the "July 5" incident. Nearly one thousand people are still being hospitalized.
Read the original Chinese article.