The University of California–Irvine (UCI) broke ground on a massive $1.3 billion medical complex on Nov. 16, marking the second full-scale hospital that UCI Health will have under its belt.
The complex, which was approved in January by the UC Board of Regents, will have a 144-bed, 350,000-square-foot acute care hospital with an emergency room, which will connect the UCI Health network throughout Orange County.
"UCI Health is building the next chapter of health care in Orange County," UCI Health CEO Chad Lefteris said at the groundbreaking ceremony. "The new UCI Medical Center–Irvine will be a full-service academic medical complex bringing a broad range of the most advanced health care services to coastal and southern Orange County, including access to the hundreds of clinical trials underway at UCI Health."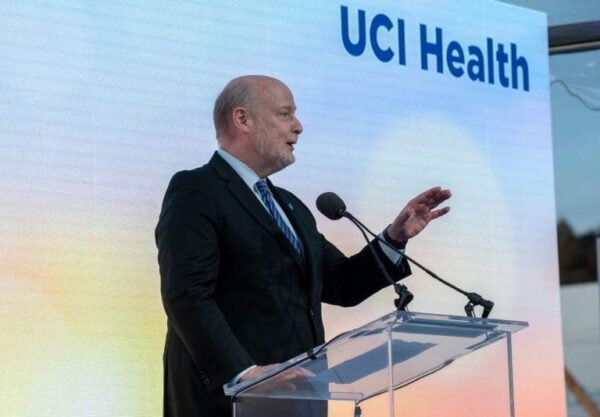 Apart from the acute care hospital, the complex will also feature a 225,000-square-foot comprehensive cancer center and ambulatory building, which will offer state-of-the-art cancer care as Orange County's only National Cancer Institute-designated comprehensive cancer center.
There will also be a 168,000-square-foot health center for advanced care, offering adult primary and specialty care services, comprehensive laboratory and radiology facilities, imaging services, and urgent care.
A new children's health center will also be developed, providing comprehensive pediatric outpatient services, according to UCI, including primary care, subspecialty clinics, rehabilitation, and simulation services. The Center for Autism and Neurodevelopmental Disorders will also relocate to this building.
The Center for Advanced Care and the Center for Children's Health are expected to be completed in early 2023, with the hospital and cancer center set to open in 2025.
"We are creating this new commitment to wellness and superb health care for all persons in our community, which will also improve how care is delivered far beyond our borders," said Steve A.N. Goldstein, UCI vice chancellor for health affairs. "Soon we will open up this new medical complex in phases, and each step will be another sign of the longstanding UCI Health mission to improve the well-being of individuals and communities through this virtuous cycle—discover, teach, heal—a process that promises continuous improvement in care and a healthier tomorrow for everyone."
The center is also expected to create thousands of new construction and health care jobs for years to come.
"UCI Medical Center in Orange was established 45 years ago, and breaking ground on the campus medical complex marks another milestone in fulfilling the promise the University of California made then to the people of Orange County, which has grown to become one of the country's most populous and diverse regions," Lefteris said at the ceremony. "The people of Orange County deserve access to world-class medicine, driven by clinical innovation and scientific discovery, and UCI Health is here to deliver it."