Uber is losing money faster than any other Silicon Valley startup. The ride-hailing company does not own cars or other fixed assets, but it is valued higher than both General Motors and Ford.
So what makes this cash-burning machine the most valuable private company in the world?
According to transportation industry expert Hubert Horan, Uber's whopping valuation reflects the anticipation that it would one day drive all incumbent taxi and limo companies out of business.
"It is well on the way to achieving that objective in many markets," Horan said, in a report.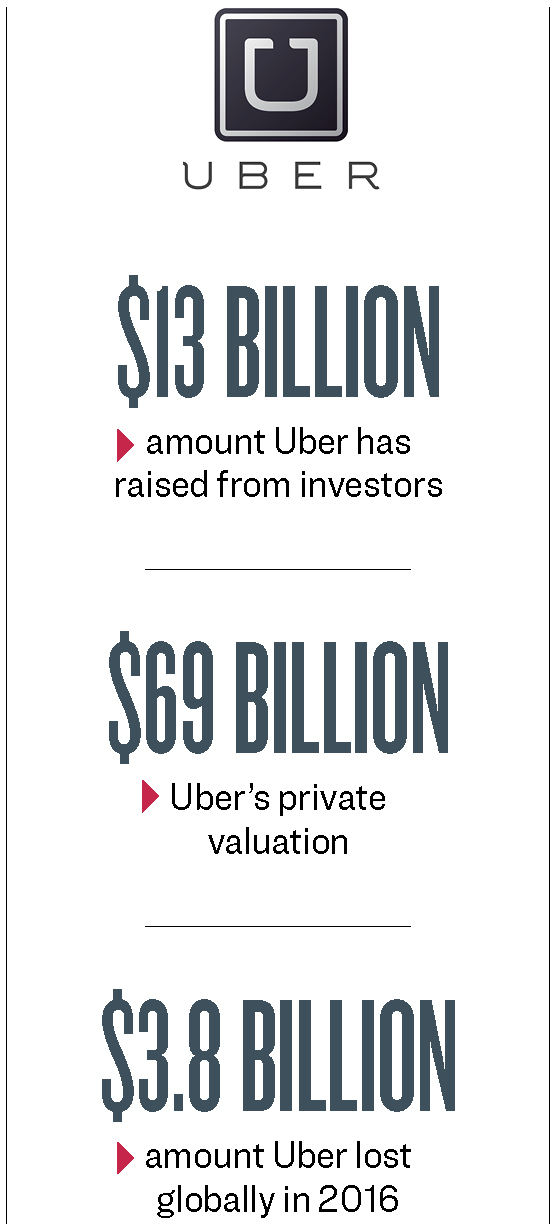 But Uber lacks the competitive advantage and economies of scale that are required to achieve profitability, hence its business model is entirely different from other giant tech companies, like Amazon.
Horan said Uber's rapid growth and industry dominance have been "entirely artificial, powered by its predatory investor subsidies."
The ride-hailing company, which operates in nearly 75 markets, more than doubled its gross bookings and recorded $6.5 billion in revenue last year, according to a Bloomberg report.
However, it announced a massive $3.8 billion loss in 2016, including $1 billion from China where Uber sold its business to rival Didi Chuxing.
Uber has churned through at least $8 billion since its launch in 2009, according to Bloomberg.
The company lost nearly $1 billion in the last quarter of 2016—a massive amount for one quarter and unprecedented for a startup, according to experts.
Despite record losses, the company has managed to raise $13 billion from investors and reached a valuation of $69 billion.
Uber's model is simple and replicable, but experts say its success is dependent on its ability to convince the world that it is a highly efficient operator that will rapidly grow into profitability.
But the company is far from breaking even, according to Horan.
"If you look at their economics, you can't find any basis for expecting financial results to dramatically improve, much less close the $3 billion gap to break even," Horan wrote in an email. "They've already cut driver pay quite a lot and can't find much more savings there."
Uber drivers used to receive 80 percent of each ride's fare, but recent financial data shows a significant drop in that share.
Uber has announced that it still has $7 billion cash on hand and an untapped $2.3 billion credit facility. The company does not seem to need new capital in the short term.
The Pursuit of Power
Many users consider Uber better than traditional taxis when it comes to service quality, including driver courtesy and professionalism, car cleanliness, and availability at peak times.
But these service advantages are achieved through investor funds subsidizing the drivers.
Uber's below-cost pricing is used as a tool to beat its competitors. The ride-hailing giant sharply cuts its prices when a competitor enters the market, incurring substantial losses until it drives out the rival from the market, experts say. Recently, taxi drivers and companies Yellow Cab and American Cab filed lawsuits in California against Uber for predatory pricing.


When raising funds from investors, Uber insists on special terms and restrictions, according to media reports. For example, the company does not allow investors to put money into competitors, like Lyft.
Uber's investors include big Silicon Valley venture capital firm Kleiner Perkins Caufield & Byers, Goldman Sachs, Jeff Bezos of Amazon, and Blackrock. The company also raised $3.5 billion from Saudi Arabia's Public Investment Fund last year.
Uber's pursuit of industry dominance is the only way to deliver decent returns to investors, according to Horan.
The Silicon Valley venture capital community may not earn returns on their $13 billion investment without the "ability to exploit anti-competitive market power," Horan said in his report.
"Uber's objective is not merely a dominant market position, but a full control of the laws and regulations governing the urban car service industry," he noted.
He believes Uber's predatory tactics are a big concern for the transportation industry. However, nothing can be done "until there is a greater awareness that Uber's business model is based on subsidizing prices and service levels to drive more efficient companies out of business so they could achieve quasi-monopoly market power," he said.
Related Coverage
Uber has run into many crises recently, including claims of sexual harassment, competitor sabotage, journalist intimidation, and a toxic corporate culture, which has resulted in at least nine top executive departures in recent months.
The company also came under fire in March for using a tool called Greyball, which allows Uber to avoid authorities in markets where its service is illegal or faces resistance from law enforcement.
"Most people assume Uber is a highly efficient, strong, and viable company—they incorrectly think these 'cultural issues' are anomalies that can be fixed. They can't be fixed," wrote Horan in the email.