U.S. Open Final Preview: Nadal in Four
September 9, 2013 6:18 am Last Updated: September 9, 2013 6:20 am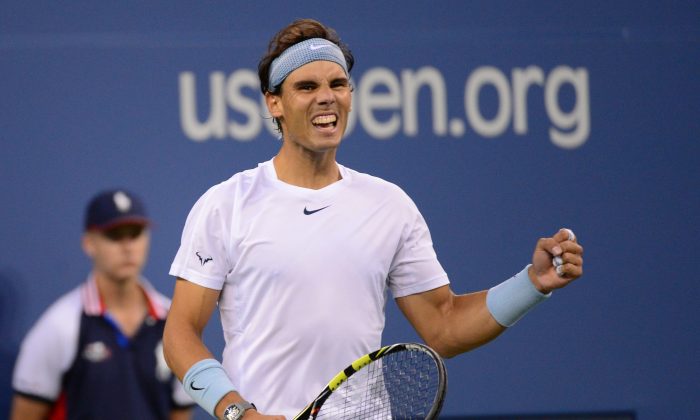 Finally the big men's matchup that we've all been waiting for has come to fruition.
After a much-anticipated first U.S. Open meeting between Rafael Nadal and Roger Federer was derailed by Tommy Robredo and the possible Andy Murray versus Novak Djokovic semifinal tilt was ruined by a great match from Stanislas Wawrinka, tennis's top two players, Nadal and Djokovic, will play Monday for the U.S. Open title.
This is certainly a now-familiar matchup with these two meeting for the sixth time in a Grand Slam final (Djokovic has won three of the first five)—just two less than Nadal/Federer's all-time record of eight.
Of course, that's not to say that this will be another classic five-set, five-hour marathon match between these two rivals as the duo comes in playing a little bit different brands of tennis—Nadal is red-hot while Djokovic is just doing well enough.
In fact, Nadal should win in four sets against the world's No. 1. Why? Simple. He's about as hot as you can get.
After sitting out nearly seven months with a torn patella tendon in his left knee Nadal has come back with a vengeance, winning an incredible 9 of the 12 tournaments he's entered in 2013—good for a sparkling 53–3 record on the year.
Though his only real blip was a major one (falling in the first round of Wimbledon) it was somewhat understandable for someone coming off major knee surgery and playing on the extra-slippery grass at the All-England club.
Since that time he's ripped off 16 straight wins—including a match each over Federer and Djokovic. This was, of course, after his 22-match streak was stopped at Wimbledon. The 27-year-old and 12-time major winner Nadal is clearly at the top of his game.
Though it's hard to say that the No. 1-ranked player, who has reached the finals of three of last four Grand Slams isn't at his best, Djokovic has certainly played better—and with more hunger.
Remember 2011, when the Serb couldn't be beat? He was at his best. Djokovic started the year with 43 straight wins and won the Australian Open, Wimbledon, and then the U.S. Open. The latter two wins came against Nadal in the finals as the rivalry was suddenly at its height then, as the two met in a major final four times in a row—with Djokovic winning three of them.
In doing so Djokovic forcefully wedged himself between Nadal and Federer into the conversation as the best in the men's field and has managed to stay there ever since.
Fast forward two years and Djokovic is still a very good 44–8 on the season, though he doesn't have the same chip on his shoulder that he did two years ago—he's already at the top. But Djokovic hasn't won a tournament since the Monte Carlo Masters back in April and has taken advantage of early Wimbledon exits by Federer and Nadal, as well as a no-show from Murray at the French Open, to stay number one in the rankings.
Novak is clearly at a disadvantage Monday in that he's coming off a grueling five-set win over Wawrinka on Saturday—while Nadal took care of business in three.
And though Djokovic grounded out the win while not playing his best, you could also point out that he was a little lucky just to advance. Wawrinka scored just as many points as Djokovic (165) for the match and even dictated the pace with 50 percent more winners, as well as unforced errors.
Djokovic clearly won't win if he defers to Nadal on Monday. It may not matter though if Nadal keeps playing like he has all year.
It all adds up to a 13th major and second U.S. Open title for the game's (current) best player.