U.S. Expresses Concern About Taishi Village Incident
October 14, 2005 12:00 am Last Updated: August 21, 2015 6:30 pm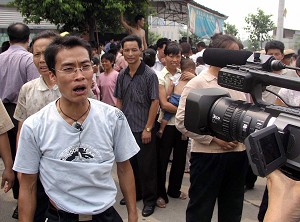 The U.S. expressed its concern about the news that civil rights activist Lü Banglie was beaten and a British journalist threatened in Taishi village, Guangdong province in China. The U.S. State Department urged the Chinese government to thoroughly investigate the incident, and to bring the perpetrators to justice.
China's Ministry of Foreign Affair Spokesman Kong Quan denied that the local government beat the foreign journalist, but he did not mention whether Lü Banglie and other Chinese citizens were beaten. Kong also accused the journalist of violating legal regulations by going to Taishi without governmental permission, but he did not explain why Chinese and foreign journalists could not report the Taishi incident freely.
Chinese civil rights activist Lü Banglie said it was obvious that the government consented or even incited the mobs to beat people.
In September, Ai Xiaomin, a professor at Sun Yat-Sen University, and two lawyers were also beaten on their trip to the Fanyu Detention Centre to visit Taishi villagers' legal consultant Guo Feixiong, who was on a hunger strike at the time. Their car windows were smashed. Last weekend, Benjamin Joffe-Walt, a reporter for UK-based Guardian, Liu Xin, a female journalist for the South China Morning Post, and Abel Segretin, a reporter for French International Radio were also threatened and beaten while trying to enter Taishi.
On October 11, Hu Ping, the Editor-in-Chief of Beijing Spring and a famous political commentator, during an Epoch Times interview, commented that the government using gangsters to publicly attack people was a terrorist act. He said it was an important sign of the CCP's power further deteriorating, and that the international community should be highly alert about this.
Foreign Nations Concerned about Taishi Violence
According to a Voice of America (VOA) report, on October 11, during the U.S. Department of State Daily Press Briefing, Spokesman Ereli expressed concern about the Taishi incident.
Also on October 11, an on-line petition was launched in Hong Kong, requesting Chinese President Hu Jintao, members of the Hong Kong Legislative Council, and representatives of the Guangdong Province People's Congress to pay attention to the Taishi incident. Those that signed the petition included Liang Wendao, former chief of the Hong Kong Commercial Radio CR1 and Ho Sau-lan, a former member of the Hong Kong Legislative Council.
Since July 2005, Taishi villagers have been trying to recall a corrupt village head using legal means, but have faced crackdowns by the local government and police. Although the international media is reporting on the incident, the central government has not taken any action. Civil rights activists and Chinese and foreign journalists who went to report on the incident were constantly blocked or threatened.
Lü Banglie: The local authority instigated ruffians to beat me
Lü Banglie is a delegate of Zhijiang in Hubei Province, a branch of the People&#039s Congress. He has been helping the villagers to recall the village head. On October 8, he was beaten because he accompanied British reporter Benjamin Joffe-Walt of the Guardian to interview Taishi villagers. The reporter witnessed the whole event of Lü being beaten unconscious.
Lü told BBC that when he arrived at Taishi, about 30 people surrounded his car. When they recognized him, they grabbed his hair and dragged him out of his car. Then, five or six people beat and kicked him until he was unconscious. He woke up later to find himself in the hospital.
Lü has returned to his home in Hubei Province. He told VOA that he thought the ruffians who beat him were instigated by the local government. Lü said, "There were people from the public security office and the local police station on-the-spot. So I think they plotted the event."
Four villagers arrested for helping the foreign reporter
According to a Radio Free Asia (RFA) report, one villager from Taishi revealed that on October 12, four villagers were arrested by the police. They were arrested because they helped Joffe-Walt and Lü to enter Taishi on October 8. Their situation is unclear. The villager said that the police also arrested several villagers on the same day Lü was beaten.
One villager said she encourages the U.S. government and citizens of Hong Kong to pay attention to the Taishi event. She said that many villagers opposed the actions of the village office and the local government, but they dare not voice their opinions.
Chinese Communist Party's "show window" of democracy questioned
Hu Ping pointed out that democracy at the village level has been the Chinese Communist Party's (CCP) "show window" for democracy for over a decade. Whenever other countries question the political direction of China, the CCP always replies that it's steadily heading toward democracy with democracy in the villages.
Several public figures who promoted the re-election of village leaders were violently treated and arrested. Lü told BBC that if villagers in Taishi needed him, he would still try his best to help them to realize their dream of democracy and to obtain more political freedom. He said, "The villagers' situation is very bad. Twenty to thirty villagers have been detained. Many villagers have fled to other places. They dare not return home."
The BBC added that it is difficult for a person who is not a CCP member to participate in the elections in China's villages. They do not have protection from the law or any kind of political support.