U.S.-China Textile Deal Seen Possible This Week
October 12, 2005 12:00 am Last Updated: October 12, 2005 12:00 am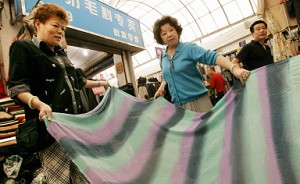 WASHINGTON – U.S. and Chinese trade negotiators could strike a deal this week that potentially would block tens of billions of dollars in China clothing exports to the United States through the end of 2008, industry officials and experts said on Tuesday.
"I certainly think that&#039s the expectation" that there will be a deal, said Missy Branson, vice president at the National Council of Textile Organizations. "But without knowing China&#039s posture, I think it&#039s really impossible to tell."
In a sign the two sides are edging closer to a pact, U.S. Trade Representative Rob Portman was prepared if needed to fly to Beijing to sign a deal, other industry sources said.
Portman is in Geneva for high-level world trade talks. A spokeswoman for the chief U.S. negotiator declined to comment on his travel plans. She also would not say whether Washington expected to reach an agreement, but repeated Portman&#039s statement that the United States would not sign a bad deal.
The talks began on Wednesday, a spokeswoman for the Chinese Commerce Ministry said.
The United States and China made substantial progress toward a pact last month in Washington, after two unsuccessful earlier rounds, industry officials said.
The negotiations are driven by U.S. industry concerns about a sharp increase in textile and clothing shipments from China following the end of a global quota system on Jan. 1.
China&#039s clothing exports to the United States increased 75 percent in the first seven months of 2005 to nearly $10.5 billion. The World Trade Organization has forecast China could eventually capture more half of the U.S. import market for clothing and textiles, which totaled about $73.6 billion in 2004.
The United States has already responded by curbing imports of shirts, trousers, bras, underwear, yarn and other textile and clothing products under a special "safeguard" provision of China&#039s entry into the WTO in 2001.
Push for Comprehensive Pact
However, U.S. industry groups have pushed for a comprehensive pact that would tightly restrict overall growth in China&#039s exports to the United States through the end of 2008, when the safeguard provision expires.
Although China agreed to talks on a textile agreement, it has pushed for pact that ends in 2007 and covers fewer products than the United States has proposed.
It also wants Washington not to use the safeguard on any products not covered by the agreement.
Beijing won similar terms in an agreement it negotiated with the European Union this year. But the United States may have more leverage because of the number of U.S. safeguards already imposed, industry officials said.
WTO rules allow Washington to restrict the growth in China&#039s clothing exports to United States to 7.5 percent annually under the safeguard provision.
A comprehensive pact that holds China&#039s clothing export growth at that level through 2008 could cost Chinese exporters as much as $50 billion to $60 billion in lost sales opportunities, said Ed Gresser, a trade analyst at the Progressive Policy Institute.
However, if Beijing does not agree to a pact, "the U.S. would impose one anyway" using the safeguard provision, Gresser said. "It&#039s probably in China&#039s interest to have a hand in this agreement rather than have the U.S. just do it."
That would give Beijing more leeway to resist U.S. pressure to address other trade irritants, such as high levels of music, movie and software piracy, Gresser said.
Also, any pact that restricts Chinese access to the U.S. market would probably help smaller clothing exporters such as Cambodia and Bangladesh more than the U.S. industry, he said.
Many poor countries are being squeezed out of the U.S. market after the quota system expired, he said.
Additional reporting by Kevin Yao in Beijing