U.S. Border Patrol agents rescued five Hondurans from drowning as they attempted to cross the Rio Grande border river from Mexico into the United States last Friday morning, Feb. 8.
The family consisted of three adults and two children, ages 1 and 3. The adults were struggling against the current as they attempted to cross the river, and one woman was nearly swept away while carrying a child, U.S. Customs Border Protection (CBP) said in a press release.
Border agents in boats along the river rescued the family, who were offered medical treatment and transported to the Eagle Pass South Station for processing.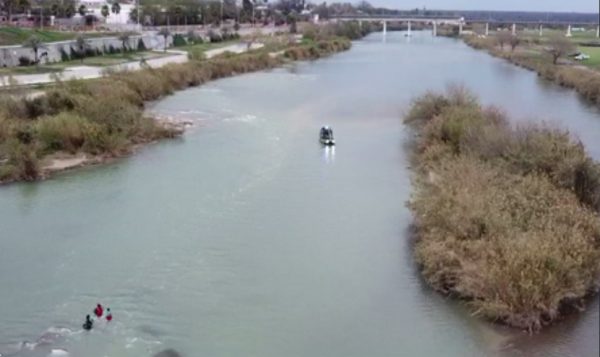 "Crossing the Rio Grande River is both dangerous and illegal. The dedication and quick response of our agents prevented a tragedy," said Del Rio Sector acting Chief Patrol Agent Matthew J. Hudak in the press release. "We encourage all migrants to utilize the ports of entry to make a proper entry into the United States."
The Honduran family was not the only family to attempt the crossing. Late Sunday evening, a Salvadoran family was rescued by U.S. border agents from the Rio Grande river before they were returned south of the border. Local reports said the family, including two babies and two minors, unsuccessfully attempted to swim across the river into the United States.
Many migrants are seeking passage into the United States by crossing the Rio Grande river. There are 2,000 Central American migrants waiting to process paperwork at a temporary migrant shelter on the Mexican side of the border.
Eagle Pass #USBP Boat Patrol agents rescue Honduran family of 5 from Rio Grande. Read more here: https://t.co/RAjPqlMB4u pic.twitter.com/Jdh7sBnMkw

— CBP South Texas (@CBPSouthTexas) February 8, 2019
Resources Stretched Thin
U.S. Border Patrol said on Friday that its resources were being stretched thin by larger and larger groups of Central American families left by smugglers in remote locations along the U.S.-Mexico border.
Agents have encountered almost 60 large groups of over 100 people so far this fiscal year, which started in October 2018. That's compared to 13 large groups from the previous year.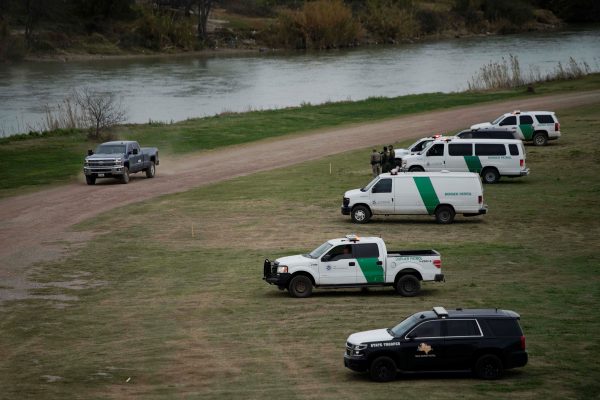 Until recently, most people caught crossing the border illegally were men from Mexico, but now Central American families and unaccompanied minors make up about 60 percent of those apprehended, data from the CBP shows. In recent years, the number of families and unaccompanied children heading to the United States has increased.
Last Thursday in Tucson, Arizona, 325 Central Americans surrendered to U.S. Border Patrol agents. The group, nearly half of which were minors, told officials that buses and trucks dropped them off throughout the night on the Mexican side of the border. Once they were all ready, they crossed together into the United States to await authorities.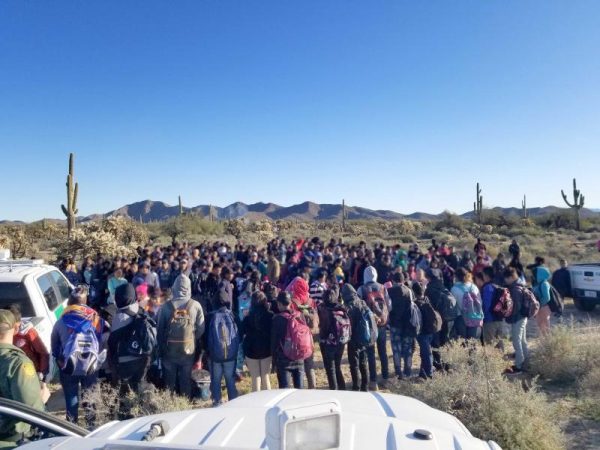 Many of the migrants who may seek passage with smugglers in their journey through Mexico cross the border and turn themselves into U.S. authorities to seek asylum in the United States, a drawn-out court process that can take months or years to resolve.
Facilities built decades ago are struggling to cope with the influx of migrant families, many with young children, who are often in need of medical care.
"Large bus loads of individuals are being bussed up to the border and we don't have any infrastructure in that area," the official said on a call with reporters.
Reuters contributed to this report.