Typhoon Raises Fears of More Fukushima Leaks
Expert says international team needed to solve problem
September 17, 2013 5:32 am Last Updated: September 17, 2013 6:35 am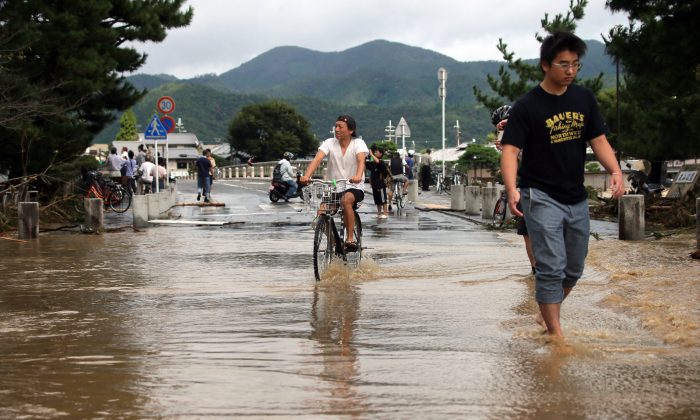 Thousands of people have been evacuated as Typhoon Man-yi moves along Japan's northeast coast. People fear the strong winds and heavy rains could increase radioactive leaks from the crippled Fukushima Daiichi nuclear power plant.
Typhoon Man-yi crossed land early Monday morning, bringing gusts of wind of up to 100 miles per hour as it moved north toward the Tokyo region and the Fukushima Prefecture.
Australian nuclear expert Dr. Tilman Ruff from the University of Melbourne said the typhoon "poses a danger" to the damaged Fukushima nuclear power plant. Workers have already been struggling to contain radioactive leaks after the 9.0-earthquake and tsunami that triggered the nuclear disaster in March 2011.
"The electrical supply, anything that is above the ground that is susceptible to wind damage, that includes much of the piping and the power supply, would be vulnerable to typhoon damage," Ruff said in a phone interview.
"The other issue is that kind of heavy rainfall has to increase the amount of water leaking into the plant and increases the likelihood of that leaking into the ocean," he said.
According to the Japan Meteorological Agency, the typhoon dumped an "unprecedented" amount of rainfall in Kyoto and surrounding areas. Authorities issued a "special warning" for the area of mudslides and flooding.
Article Continues after the discussion. Vote and comment
[tok id=b5d22c9006208228ea97759270910d22 partner=1966]
More than 300,000 households were advised to evacuate in 18 prefectures, and over 350 flights were canceled and bullet train services were reduced, NHK television (Japan Broadcasting Corp.) reported.
Plant operator Tokyo Electric Power Co. (TEPCO) instructed workers at the Fukushima plant to batten down the site, tie down outdoor piping and pumps with ropes, and anchor cranes with large weights.
TEPCO also said it was pumping away rainwater to reduce the risk of any mixing with contaminated water already seeping into the soil or leaking into the sea. The company said the radioactivity level in the released water was within allowed limits. Nevertheless, the government's Nuclear Regulation Authority said it was possibly "an event" subject to reporting under nuclear safety rules.
TEPCO statements are treated with some skepticism after company officials consistently denied that the plant was leaking, only to confess in July this year that the plant is leaking and then, in August, that it had leaked around 300 tons of highly contaminated water in one day. Soon after, and just weeks before Tokyo's Olympic bid was approved, Prime Minister Shinzo Abe announced a government plan to build a frozen wall around the site to contain the leaks.
Dr. Ruff, a former independent adviser to the International Commission on Nuclear Non-proliferation and Disarmament, is critical of the Abe plan. He said few details have been given on how it will work, while the government has focused more on saving face and restarting the nation's nuclear industry.
Ruff says it is not only the four severely damaged reactors that are a concern at Fukushima, but also the large quantities of spent fuel in the plant and its fragile infrastructure. Pipes and holding tanks, with tons of contaminated water a day, were originally built for temporary purposes.
"A lot of the makeshift equipment that was put in after the disaster is really not designed or engineered to radioactive standards," he said noting that a number of pipes had cracked during winter from ice.
He said leaks of contaminated water in the Pacific are already affecting sea life, particularly bottom dwelling fish that feed where radioactive waste is likely to settle. That radioactive waste includes Strontium-90, which remains active for about 30 years.
He believes Fukushima has gone beyond being a national issue for Japan, and he would like to see an international team of experts involved.
"There is expertise around the world in a number of relative areas and that really needs to be mobilized," he said.