Typhoon "Dragon King" Slams Fuzhou Province
October 6, 2005 12:00 am Last Updated: October 6, 2005 12:00 am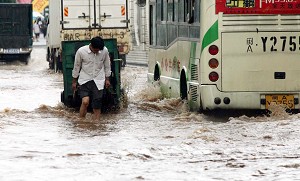 The typhoon "Dragon King" made its first landfall in Jinjiang City, Fujian Province at 9:35 p.m., October 2, then again at 11:40 p.m. in Longhai City. Between these two touch points, the typhoon center remained within the boundaries of the province for over 10 hours. Its strong wind, sand, and heavy rain took a huge toll, damaging property and people alike.
According to China News.Net, "Dragon King" scored a direct hit on Fujian Province. The rarely-seen storms swamped half of Fuzhou City, the capital city. Over 30 centimeters of rain fell within the span of a few hours, causing massive flooding.
The drainage system completely failed once the nearby Min River swelled over its banks. There was too much water for pumping to accomplish anything. The floodwaters have trapped hundreds of thousands of residents in Fuzhou's Changshan, Taijiang, Jinan and Gulou districts.
The most luxurious shopping area on Wusi Road is completely flooded–the entire first floor of the stores, restaurants, and urban residents' electrical appliances and furniture have been all submerged in the flood.
Many cars and motorcycles in the inhabited area were unavoidably inundated with water. Families, trapped on their homes upper floors or rooftops, subsist on instant noodles, Babao Zhou (eight treasure congee), and biscuits. They have no way of going for supplies, and no where to go for them if they could figure out a way to do so.
What's more, the rain continues without sure sign that it will cease. At the moment it is only a drizzle, but officers from the Fuzhou Flood Control and Drought Relief Command say that another round of heavy rains is possible. If that should occur, homes that have been drained will find themselves once more under water.
According to an incomplete statistic as of October 3 from Fuzhou Flood Control, there roughly two and a half million people impacted by the typhoon, spread out among eight cities and fifty counties in Fujian Province. About 537,000 were evacuated, while three were killed in a landslide caused by the rains.
Dragon King blew down 5400 houses and caused approximately 1.22 billion yuan (US$150.14 million) worth of direct economic losses for the entire province.