Two Trees' Domino Development a Precedent, Says City Council
April 1, 2014 5:45 pm Last Updated: April 2, 2014 6:51 am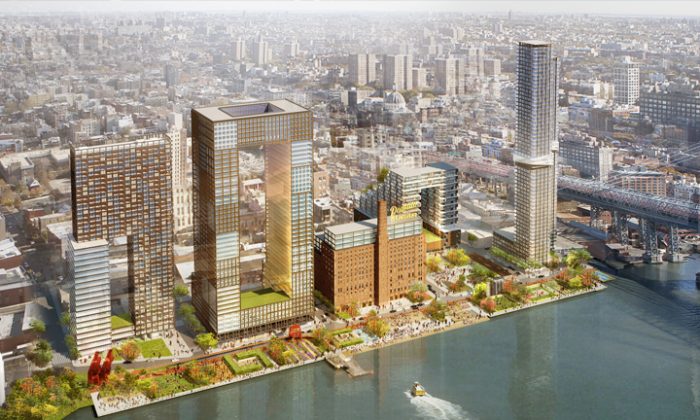 Council members pressed Two Trees Management for details on the Domino Sugar Refinery development on the Brooklyn waterfront, at a zoning committee meeting Tuesday.
"Your project is going to set a precedent for everybody else in the city," said Queens Council member Elizabeth Crowley, who asked developer Jed Walentas to use unions with apprenticeships and pay a prevailing wage.
The mayor's office recently reached an agreement with the developers to increase density and permanently affordable rental units. Under city and state provisions, developers previously needed to set 20 percent of residential space aside for affordable units to receive a subsidy. Now the square footage includes non-residential space. 
Walentas said 537,000 square feet of the 2.2 million square feet of residential space will be allotted for affordable units. It translates into tentatively 660 affordable units, but the numbers are not final. 
The overall residential area was reduced and the plan added additional above-ground office space, which Walentas said was a short term loss but better for the developer and neighborhood long term.
The City Planning Commission  approved of the project last month after the mayor's office's last minute agreement. Planning Commissioner Carl Weisbrod lauded the agreement as a step towards the mayor's goal of preserving or creating 200,000 units of affordable housing in the next decade.
But simply increasing units—affordable or not—is not sitting well with City Council.
Brooklyn Councilmember Steve Levin estimated the number of market-rate units could be as high as 3,000 based on the residential square foot allotment and the average unit sizes of Two Trees' previous developments. The committee was worried the city infrastructure would not meet the needs of the increased population an additional 1,000 units would bring.
Walentas said he could not provide exact units and a unit-size mix because the plans were not finalized. He said Two Trees was planning on building about 2,200 market-rate units, and wanted to commit to what Community Board 1 had voted for. The board had approved the revised project 24-4.