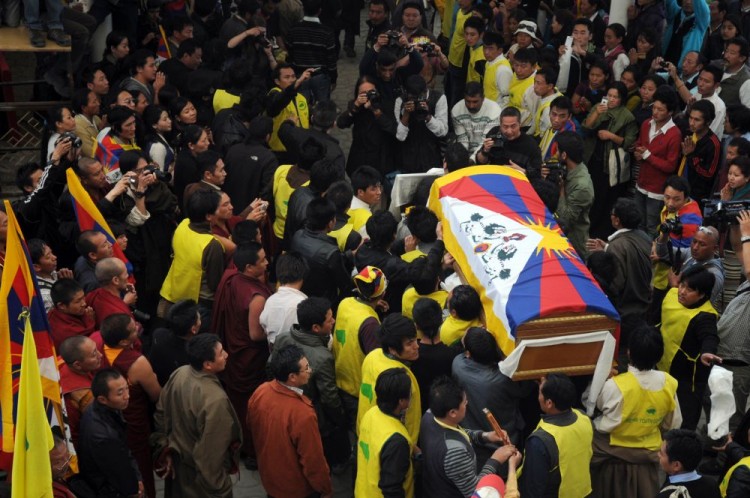 Two Tibetans set themselves on fire in the capital city of Lhasa in the Chinese controlled Tibet Autonomous Region on Sunday.
There have been dozens of self-immolations over the last 14 months, but this is the first in the capital city. It took place near the historic Jokhang Temple in the touristed old city, according to the Free Tibet human rights group. The majority of those who have set themselves on fire have been Tibetan Buddhist monks.
Dorjee Tseten, 19, set himself on fire but it is unclear if he was a monk or not. Chinese state media reported that he died shortly afterward, according to Free Tibet. The second person was not identified and he was reported only to have been injured.
"They used a fireman's hose to douse the fire on the two," a Tibetan man, who wished not to be identified, told Radio Free Asia. "Some who tried to go close to the site were also detained and taken away while mobile phones of those who were close to the site were confiscated," the man added.
An eyewitness told RFA that tourists were kept away from the site. "Within 15 minutes, the area was cleaned and not a trace of the incident was left at the site," the person said.
"Chinese forces moved in quickly to remove any signs of disturbance and Lhasa is now under heavy military restrictions," Free Tibet added.
A source told RFA that Chinese police and paramilitary forces, known as "chengguan," have swarmed Lhasa.
"All those who pass through the main grounds in front of the Potala Palace are being searched and there is much tension," another source was quoted as saying.
Following the incident, there have already been reports that Tibetans have been detained arbitrarily, particularly those from Ngaba, an autonomous prefecture in Sichuan Province. Most of the pro-Tibetan protests and self-immolations have taken place in Ngaba over the past several months.
Sunday's incident was only the second self-immolation inside the Tibetan Autonomous Region itself. The acts are described as desperate gestures against the Communist Party's rule over and treatment of Tibetans.
More than 30 Tibetans have set themselves on fire and thousands of protesters have taken part in demonstrations since March 2011.