Two Thousand Chinese Villagers Voice Their Anger
October 19, 2007 12:00 am Last Updated: October 19, 2007 12:00 am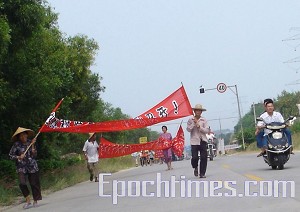 At 9 a.m. October 14, 24 hours before the opening ceremony of the 17th National Congress of the Chinese Communist Party (CCP), over 2000 villagers from Dongzhou Town, Shanwei City, Guangdong Province, held a rally to protest against the authorities' corruption and illegal land acquisition. The rally lasted for three hours
The villagers gathered in front of the Dongzhou Police Station whence they started to march. The rally passed by the massacre site, where dozens of villagers were reportedly shot to death in a demonstration in December 2005.
A villager named Wei said that everyone in his village participated in the demonstration. According to his accounts, the protestors held long banners and chanted slogans throughout the march. Wei said he saw five or six plain-clothed policemen trying to take pictures of the protesters, but they were forced out by the villagers.
Another villager noted that the demonstration was held right before the 17th CCP National Congress because the villagers wished to call for the attention of central authorities. "Since we lost our land, we have been fighting against corrupt local officials. Now two years have passed since the massacre, and the authorities still have not solved our problems. Now we are really desperate. We hope the authorities could punish the corrupt officials and release all the detained village representatives."

Irritated by the media reports that publicized the villagers' fight for their own lands, local officials took revenges. One of the local officials is reported to order his staff to "watch for villagers who dare to take pictures at the demonstration scene and beat their hands and feet." The same official also sent his own children to the scene to monitor the demonstrators' activities.
Banners were hung all over the town bearing slogans such as "Fight Against Corruption" and "Bring the Massacre Criminals to Justice". The local authorities offered a 2000 yuan (US$266) reward for anyone who would stop hanging the banners, but no one showed up to claim the reward.