China's anti-corruption campaign ensnared its first major targets after the Chinese Communist Party's key political meeting, the fifth plenary session, concluded last week.
On Nov. 1, the Party's two anti-corruption watchdog agencies announced that Tong Daochi, a member of the Hainan Province Standing Committee and Party chief of Sanya city, had been placed under investigation for suspected "serious violations of Party disciplinary rules and laws," a phrase that's an oft-used euphemism for corruption-related charges. 
Notably, Tong had served on the China Securities Regulatory Commission for 14 years, holding various offices.
On Nov. 2, the Jilin Central Commission for Discipline Inspection said that Gao Cailin, vice secretary of the Jilin provincial government, is being investigated.
According to state media, Gao joined China's central bank, People's Bank of China, in 1997. He advanced within the company and eventually landed at the bank's Shanghai branch. In 2010, Gao was transferred to Jilin, working as director of the province's Financial Work Leadership Group office for five years.
According to a report of notices issued by local anti-corruption agencies in October, at least 11 executives and officials who worked in finance roles had been placed under investigation.
They include chairmen of private and state-run banks such as Industrial and Commercial Bank of China, Bo'ai Rural Commercial Bank Co., and CITIC Bank. They all were also the heads of their respective banks' Party organization.
In China, nearly all major firms, public or private, are required to establish Party units.
An article published earlier this year in the Party's bimonthly journal on communist ideology, Qiushi, hinted at why the Party was targeting finance-related members.
On Aug. 16, Guo Shuqing, head of China's Banking and Insurance Regulatory Commission, penned an article titled "A Tough Task: Grappling with China's Financial Risks."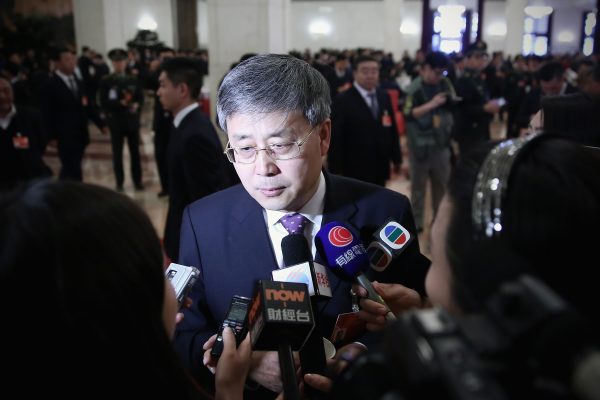 Guo conceded that China's supply and demand, as well as its domestic and foreign markets, would face simultaneous pressure over a long period of time. He believed that China's financial system would definitely encounter major challenges.
Guo predicted that the overall leverage ratio and sub-sector leverage ratio would rebound significantly this year, while saying that bad debt at financial institutions may also increase substantially.
It's inevitable, he warned, for asset quality to doubly deteriorate because of the banking industry's 2.7 trillion yuan ($403.5 billion) of non-performing loans newly created in 2019, coupled with the economic downturn as a result of the COVID-19 pandemic.
High-risk and structurally complicated "shadow banks" also are likely to make a comeback, he added.
Chinese leader Xi Jinping has turned the anti-corruption campaign into a tool to consolidate power and control the financial system, according to China affairs commentator Tang Jingyuan. Xi recently placed more emphasis on the financial sector, he said, noting that Chinese regulators just announced that they summoned Jack Ma, founder of financial tech company Ant Group, ahead of its anticipated IPO in Hong Kong and Shanghai.
Eva Fu contributed to this report.