HONG KONG—Two races took place in Victoria Harbour last weekend. On Saturday April 29 the Tomes Cup was run while on Sunday the colourful Nations Cup event took place.
The Tomes Cup was the final race of the RHKYC's Top Dog Trophy series which comprises the Lipton Trophy, Around the Island Race, HKRNVR and the Tomes Cup.
Top finishers of this year's Tomes cup in Victoria Harbour, with 59 competitors were Mark Thornburrow in Flying Phantom "Flyer" 1st, followed by Mark Castagnet in Dragon Class "Celine", Andreas Brechbuhl in another Dragon Class "Elfie", Harold Williams in Flying Fifteen "Tchaikoffsky" and Nick Bryan helming Ruffian "Buster".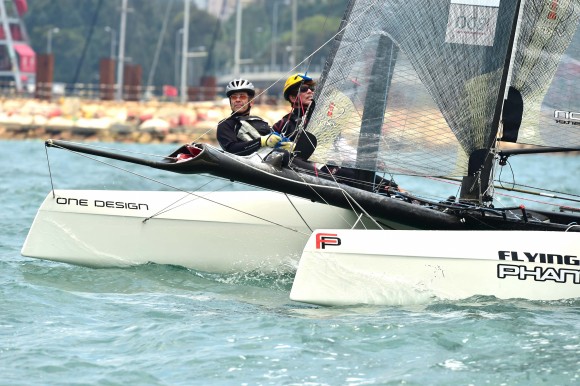 With the results of the Tomes Cup known the Top Dog Trophy order for 2016/17 was declared as Florence Kan / Dennis Chien's Impala, "Taxi" as "Top Dogs", with Steve Bourne in Sportsboat "Merlin" 2nd and the Joachim Isler, Andrew Taylor Big Boat "Ambush" came 3rd.
According to HKYC, the Top Dag series is designed to identify the most successful boat over a variety of pursuit race courses and conditions. With the Around the Island Race included in the series it constitutes a serious yachting achievement, particularly for the smaller crafts.
The Nations Cup was run on Sunday April 30, with 52 boats from 13 Nations taking part. Crews were dressed in national costumes, to a varying degree. The maidens of Hong Kong in two Ruffian Class entries (Larrikin and Skellum) made a particularly colourful scene.



Sailing conditions were generally good except many competitors experienced a wind "hole" near the bottom mark located adjacent to the Conference and Exhibition Centre giving them a little time to enjoy the scenery.
"Tornado" representing Hong Kong was first to cross the finish but the New Zealand Flying Fifteen "Forty Forte" helmed by Warwick Simons took 1st prize followed by Etchells "Fuzzy Duck" representing Sweden. Etchells "Gunga Din" helmed by English man Nick Burns was 3rd and Steve Bourne in "Merlin", apparently from Uranus, was 4th.