Two women from Orange County, California—Rebecca Friedrichs, an elementary school teacher, and Natalie Harp, a cancer survivor—both spoke Aug. 25 at the first night of the Republican National Convention.
Friedrichs, a vocal critic of teachers unions, used her platform to highlight what she called a "radical agenda" being pushed on teachers and schools.
"I'm just so thankful that I was given an opportunity to give a voice to real teachers, because like I said in my speech, we've been silenced literally for decades, and bullied," Friedrichs told The Epoch Times.
"Real teachers on the ground, many of them are terrified by the unions. They don't have a voice."
Friedrichs said thousands of Orange County parents and teachers support her work. "I cannot tell you how many emails and text messages and phone calls and outreach that I had immediately after that talk last night. I hadn't told anyone I was going to be on, and people were just thrilled that their voice was heard," she said.
During her speech, Friedrichs also criticized vice presidential candidate Kamala Harris and the Obama Administration for opposing her lawsuit against the California Teachers Association to allow teachers to opt out of unions. Ultimately, the Supreme Court decided in 2018 that unions could not force teachers to join and pay their fees.
"Unions collect billions annually from unsuspecting teachers and push this radical agenda into our classrooms against our will," she said in the speech.
"They spend hundreds of millions annually to defeat charter schools and school choice, trapping so many precious low-income children in dangerous, corrupt, and low-performing schools."
Friedrichs now helps other teachers learn how to opt out of unions and stop contributing to an agenda they may disagree with. "Most teachers have no idea that they've been freed from forced unionism," she said.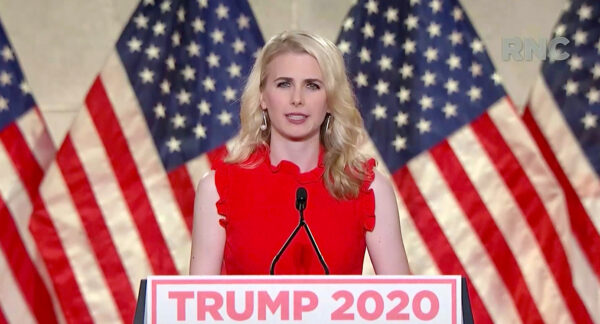 Entrepreneur Natalie Harp, an advisory board member for President Donald Trump's campaign, also spoke about her experience using experimental treatments for a rare form of bone cancer. She was close to death because of the cancer as well as a medical error.
"I wouldn't be alive today if it wasn't for you," she said to the president.
Trump signed the Right to Try Act into law in May 2018. The law allows patients with life-threatening conditions or diseases who have exhausted conventional medicine and are not able to enroll in a clinical trial to try unapproved therapies and drugs.
"The Democrats love to talk about health care being a human right, but right to what?" she asked. "To them, a right to marijuana, opioids, and the right to die with dignity, a politically correct way of saying assisted suicide."
She added, "I was told I was a burden to my family and to my country and that by choosing to die early, I'd actually be saving the lives of others by preserving resources for them rather than wasting them on a lost cause like myself."
Trump said he first became aware of Harp, who is from Irvine, in 2019 when she appeared on Fox News to voice her support of the law.
"I was watching and I heard the story of an incredible, unbelievable young woman who is battling rare bone cancer," Trump said at the Faith and Freedom Coalition Road to Majority Conference in Washington in June 2019.
"Her name is Natalie Harp and she lit up the television screen like very few people I've ever seen do it. And she talked about how they were preparing her for death. And because of Right to Try, she's now living and, I think, doing phenomenally well."
The mostly virtual four-day Republican National Convention is being held in Charlotte, North Carolina, with some speakers in Washington and others delivering messages remotely. The theme of the first night was "America, Land of Promise."
Other speakers included former U.S. Ambassador to the United Nations Nikki Haley and Sen. Tim Scott (R-South Carolina).