Two Chinese netizens have reportedly gone missing since Feb. 9, after participating in a live-streaming event to mock Chinese leader Xi Jinping on YouTube, according to Radio Free Asia (RFA).
Several YouTube channels run by Chinese netizens prepared a Feb. 11 joint live-streaming session aimed at ridiculing Xi ahead of the Chinese New Year, the most important traditional festival in China. YouTube is banned in mainland China, but netizens can use VPN software to circumvent China's internet firewall and access banned platforms.
Some of these groups said their videos were removed by YouTube ahead of the event, with the platform citing copyright violations. The channel administrators believe that YouTube was acquiescing to Chinese censorship rules.
The Epoch Times has reached out to YouTube for comment and did not receive a reply by press time.
Meanwhile, the groups have lost contact with two China-based channel administrators: the person behind the "Ru Mo Xin Lian She" YouTube channel, one of the livestream co-hosts, and an administrator called "W." 
The person in charge of a YouTube channel called "Qiang Guo Wa Ha Ha"—another of the livestream's co-hosts—told RFA that he believed the two have been punished by Chinese authorities. "The Chinese Communist Party is very likely to have used its state-level security resources to investigate and silence them."
"Qiang Guo Wa Ha Ha" is a channel dedicated to spoofing Xi Jinping, especially for his slips of the tongue during public occasions. 
Two other YouTube channels who co-hosted the livestream, "Xiao Fan Qi" and "Xiao Chi Tang," received copyright warnings from YouTube the night before, on Feb. 10. All of their previous videos, many of which spoofed Xi, were removed by the platform.
According to the warning notices they received from YouTube, the two channels are accused of copyright infringement by Shanghai Hode Information Technology Co., the entity that runs popular Chinese video-sharing site Bilibili.
The "Qiang Guo Wa Ha Ha" manager told RFA that he believed Bilibili launched the complaints in an attempt to prevent the live-streaming event from occurring. 
But on Feb. 11, the livestream event appeared on the two channels and was able to broadcast.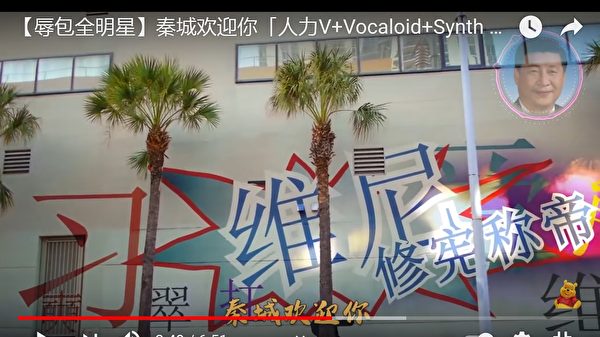 Wu Te, an independent commentator in mainland China, told the Chinese-language Epoch Times that the event signaled that "Chinese young people are losing their patience with Xi Jinping" and becoming increasingly outspoken in dissenting against the regime.
Chinese netizens sometimes refer to Xi as "accelerator-in-chief," referring to his domestic and foreign policies that have drawn people's ire and could accelerate the collapse of the Chinese Communist Party.