A court convicted two Mexican nationals Thursday for the murder of U.S. Immigration and Customs Enforcement (ICE) Special Agent Jaime Zapata.
Zapata was 32 years old when he was attacked and killed by members of criminal syndicate Los Zetas near San Luis Potosi, Mexico, in 2011.
The U.S. District Court for the District of Columbia found Jose Manuel Garcia-Sota and Jesus Ivan Quezada-Pina guilty of felony murder and other crimes.
On the day of the attack, Zapata and fellow agent Victor Avila were driving on Highway 57 in Mexico on assignment from ICE when they noticed two SUVs following them. The two vehicles caught up with them at high speed and were driving aggressively.
One SUV passed the agents' Suburban, while men from the other car fired at them and rammed their vehicle off the road. Once off the road, some 15 armed cartel members surrounded the agents' car. When the agents tried to identify themselves and reason with the gangsters, they received bullets as an answer.
After the assailants left, Avila managed to use a cellphone to call for help. Zapata put the car in drive and managed to get away, but collapsed at the wheel.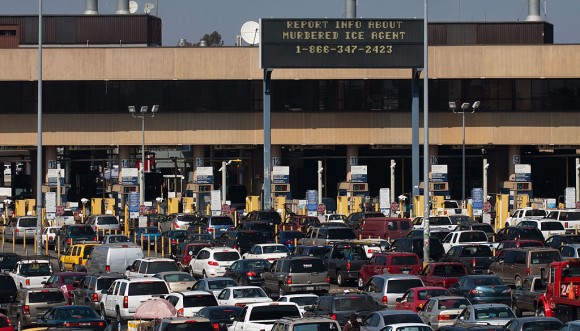 Garcia-Sota and Quezada-Pina were among nine men who ambushed Zapata and Avila. Avila was seriously injured in the attack, but survived.
Zapata's murder was the highest-profile killing of a U.S. agent in Mexico since 1985, when undercover DEA agent Enrique Camarena was tortured and killed by the Guadalajara Cartel.
Born in Brownsville, Texas, a border town near Mexico, Zapata was was one of five brothers, all of whom went into careers in law enforcement.
Zapata began his career as a border patrol agent in 2006 and worked with the Human Smuggling and Trafficking Unit.
Earlier this month, Avila called on the members of two Congressional oversight committees to look into the incident in light of new evidence.
According to Avila, his supervisors failed to heed a warning from the State Department that prohibited travel by U.S. personnel on Highway 57. Avila and Zapata were sent there anyway.
"I'd like the Homeland Security Committee and the Senate Homeland Security Committee to hopefully hold congressional hearings on this matter, to have the individuals surrounding this whole assignment be brought in and questioned as to what happened and why they made these decisions," Avila said.
From NTD.tv